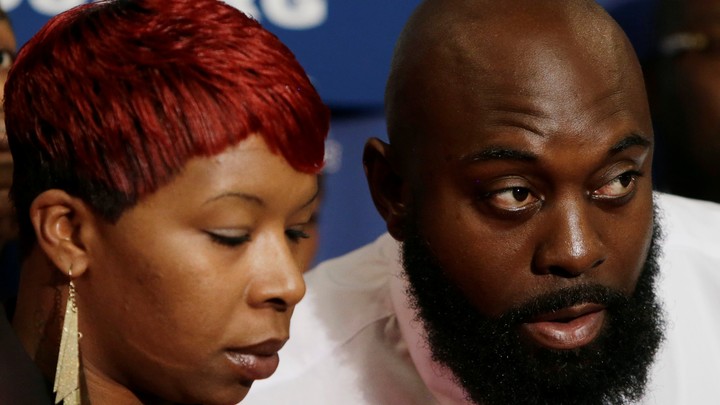 The family of Michael Brown, an 18-year-old black man who was fatally shot in 2014 by a white police officer in Ferguson, Missouri, reached a settlement with the City of Ferguson on Tuesday more than two years after filing a wrongful death lawsuit. The judge, Richard Webber, agreed to keep the settlement sealed, arguing that disclosing the terms "could jeopardize the safety of individuals involved in this matter, whether as witnesses, parties, or investigators." He noted, however, that the Brown family had obtained "fair and reasonable compensation." The St. Louis Post-Dispatch reports that the city could not have paid more than $3 million.
Brown's family initially filed a wrongful death suit in April 2015 after a grand jury determined there was insufficient evidence to indict Darren Wilson, the officer who shot and killed Brown. (A separate investigation found that the Ferguson Police Department had unfairly targeted African-American residents.) At the time, the family's lawsuit sought $75,000 in damages, in addition to attorney fees, from Wilson, the City of Ferguson, and the city's former police chief, Thomas Jackson. After the lawsuit was transferred from state to federal court, Webber dismissed four of its seven counts due to legal technicalities.
The lawsuit that ultimately went to trial argued that Wilson "unjustifiably shot and killed [Brown], using an unnecessary and unreasonable amount [of] force in violation of [Brown's] constitutionally guaranteed right to life." It also accused Wilson of "destroying evidence and interfering with the investigation." Meanwhile, it accused Jackson and the City of Ferguson of failing to conduct a proper investigation in the wake of the shooting.
While details of the shooting have been widely contested, the U.S. Justice Department ultimately concluded that Wilson shot Brown in self-defense. The incident began when Wilson responded to a report of theft at a convenience store, with Brown matching the description of one of the suspects. After Wilson accosted Brown, who was with a friend, Brown reportedly tried grab the officer's gun before running away. According to Wilson, Brown then came toward him, causing him to fear for his safety. Other witnesses said that Brown was holding up his hands when he was shot, but their accounts were later discredited. Nevertheless, the slogan "Hands up, don't shoot" became a rallying cry against police brutality and racial bias in the U.S.
While Brown's parents have yet to comment on the settlement, local Ferguson residents shared their thoughts on Tuesday. "I hope that this gives the family some closure and I hope they feel like this gives them a little bit of justice," Emily Davis, a Ferguson resident and advocate for police reform, told The New York Times. Still, she said, "I do not feel like the community has justice yet. People's experiences with the police and the court system are not changing quickly."
We want to hear what you think about this article. Submit a letter to the editor or write to letters@theatlantic.com.
Aria Bendix
is a frequent contributor to
The Atlantic
, and a former editorial fellow at
CityLab
. Her work has appeared on
Bustle
and
The Harvard Crimson
.