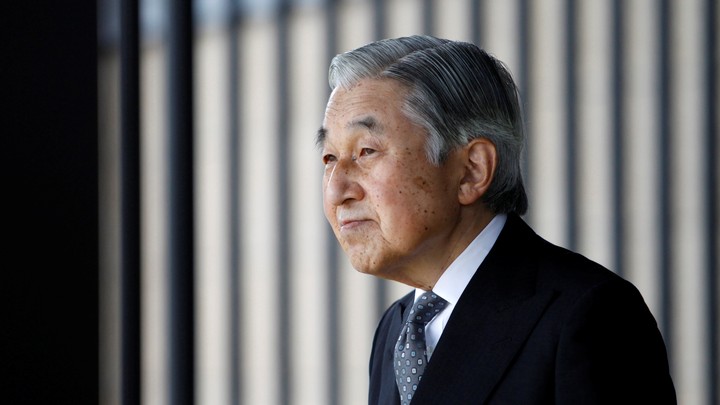 Japan's Parliament on Friday passed a law that allows Emperor Akihito to become the first occupant of the chrysanthemum throne to abdicate since 1817. With Akihito stepping down, his son, Crown Prince Naruhito, will likely take over. The imperial family has just 19 living members, and only three males who could rule in the future, which is one reason why parliament also passed a law that proposes the government consider allowing the royal bloodline to pass through women in the family as well.
Akihito, who is 83, said last year that he wished to give up his throne over health concerns. He's had heart surgery and treatment for prostate cancer, and since his announcement last August, the government has considered whether he could fulfill his duties or if it should allow him to step aside. Akihito is loved in the country, and his request to abdicate was warmly received by the public. The parliamentary vote was broadcast live on NHK, the public television channel, and the upper house overwhelming passed the measure.
The law is a one-time policy, meaning it applies only to Akihito. The government will now work out the details of abdication, including when Akihito will resign the throne, though media reports say this will likely happen next year, giving Akihito three decades on the Chrysanthemum throne.
Akihito became the emperor in 1989, succeeding his father, Hirohito, who was considered a deity. Hirohito oversaw Japan's entry into World War II, and the Japanese people first heard his voice when he surrendered in a radio broadcast, saying, "The time has come when we must bear the unbearable. ... I swallow my own tears and give my sanction to the proposal to accept the Allied proclamation." His son, Akihito, was a much different ruler: He was a pacifist, and traveled through much of the Asian countries that had suffered during the war under Japanese occupation.
In his announcement last year, he said he wished to step down,  but that "it is my hope that by thoroughly reflecting on our country's long history of emperors, the Imperial family can continue to be with the people at all times and can work together with the people to build the future of our country, and that the duties of the Emperor as the symbol of the State can continue steadily without a break. With this earnest wish, I have decided to make my thoughts known."
The future of the imperial family has become a serious concern in recent years. Aside from Akihito's son, there's only one other young male heir, Prince Hisahito, who is 10. The other younger members of the family are all women, seven in all, six of whom are in their 20s and 30s, and could soon be married. Under law, women of the imperial family abandon their status if they don't marry royalty, and this has become more common. Princess Mako recently became engaged to a commoner, and if she has a son he would be ineligible to become an heir.
Local media say Prime Minister Shinzo Abe is torn on what to do. He supported Friday's decision to allow Akihito to abdicate, saying, "A stable succession of the Imperial throne is a momentous issue. The government will advance debate with respect for the resolution." Through its 125 generations, women have stepped in to rule when no male successor was available, so proponents of the change argue there's historical precedent. But the conservative contingent of Abe's party has made it known they wish to keep the male-only succession system.
In 2005, a government panel released a report that studied the future of the imperial bloodline, and considered how it could survive. One suggestion was to return imperial status to 11 families who were deprived of it after World War II. Even so, the reports said, "it will be extremely difficult to maintain stable Imperial succession" with the current male-only bloodline system.
We want to hear what you think about this article. Submit a letter to the editor or write to letters@theatlantic.com.