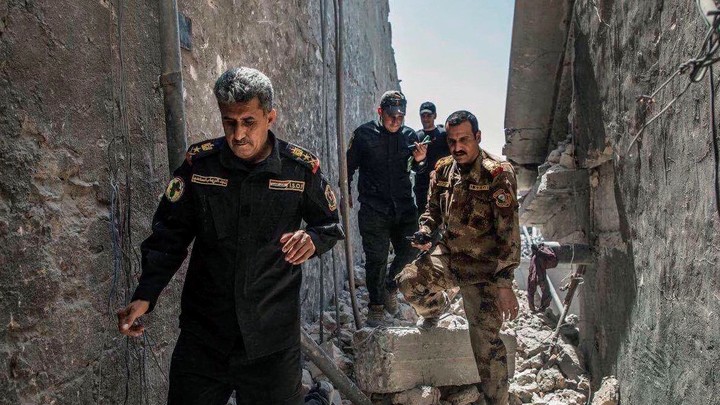 Exactly three years after the Islamic State declared its "caliphate" from Mosul's historic Grand Mosque of al-Nuri, Iraqi forces announced Thursday the recapture of the site, as the battle to reclaim ISIS's last urban stronghold in Iraq reached its final stages.
The announcement comes amid an ongoing offensive by the Iraqi government, backed by a U.S.-led coalition, to recapture the western half of Mosul, ISIS's de facto capital in the country. It's a goal Iraqi officials say could be achieved any day now—they estimated Monday that some 350 ISIS militants are still in western Mosul's Old City, dug in among the 50,000 civilians that also remain. It's been a week since the centuries-old al-Nuri mosque, known for its iconic leaning minaret called al-Hadba, or "the hunchback," was destroyed. Though the Iraqi military faulted ISIS with the mosque's destruction, ISIS claimed a U.S. airstrike was responsible (the Pentagon denied this claim).  
The landmark's destruction—and the recapture of the rubble—was hugely symbolic. It was from the mosque's pulpit that ISIS's leader Abu Bakr al-Baghdadi, in a rare public appearance, proclaimed his new caliphate following the group's capture of Mosul in July 2014. Some observers suggested its destruction was aimed at preventing coalition forces from retaking the important ISIS landmark. Though the mosque no longer stands, the Iraqi military still treated its recapture as a major victory. "Their fictitious state has fallen," Brigadier General Yahya Rasool, an Iraqi military spokesman, announced on state TV.
ISIS militants haven't completely fled the city. Feras Kilani, a BBC journalist who is embedded with Iraqi troops, noted that the complex is still exposed to ISIS snipers and mortar fire.
انا داخل منطقة جامع النوري وهو ساقط عسكريا لكنه لا يزال مكشوفا من قبل قناصة داعش ويستهدف بشدة بالهاون pic.twitter.com/0fWFP5HuLW

— Feras Kilani (@FerasKilaniBBC) June 29, 2017
Haider Al-Abadi, the Iraqi prime minister, also declared ISIS's defeat in Iraq in a tweet Thursday, adding that the country "will continue to fight Daesh [ISIS] until every last one of them is killed or brought to justice."
We want to hear what you think about this article. Submit a letter to the editor or write to letters@theatlantic.com.