ISIS Calls for More Attacks During Ramadan
An audio clip reportedly belonging to the Islamic State names Russia, Australia, and the U.S., among other nations, as future targets.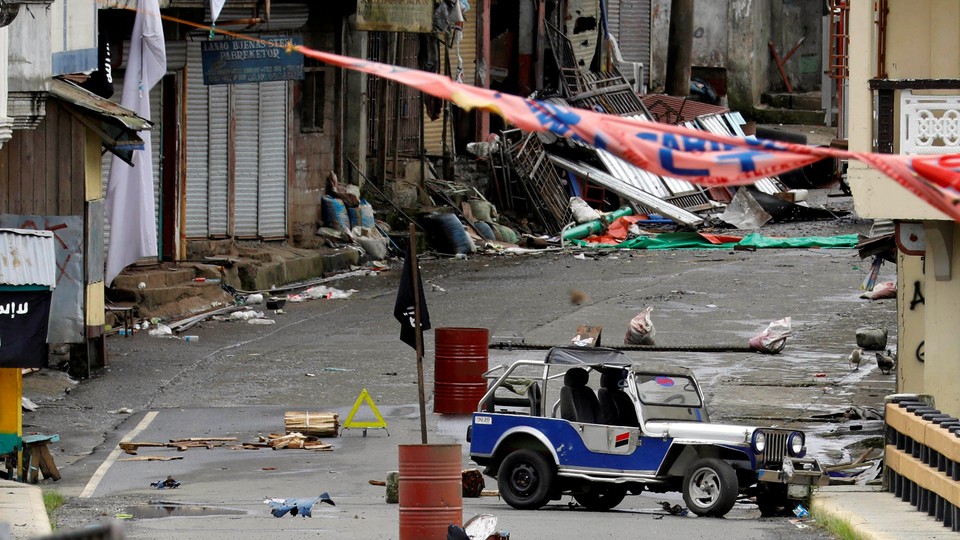 In an audio message awaiting independent authentication, the Islamic State reportedly calls upon its members to attack a set of nations during Ramadan—an annual, month-long observance among Muslims that commemorates the first revelation of the prophet Muhammad. The message, first reported by Reuters, was distributed Monday on Telegram, an encrypted messaging app used by ISIS to disseminate videos and communicate with its followers. The voice in the audio clip seems to match that of Abi al-Hassan al-Muhajer, ISIS's official spokesman.
In the clip, al-Muhajer lists three Middle Eastern nations—Iraq, Syria, and Iran—as potential sites for future attacks. Al-Muhajer specifically asks ISIS followers to "charge against the rejectionists and the apostates and fight them with the strength of one man." As subscribers to a strict version of Sunni Islam, ISIS has often referred to Shiite Muslims as "apostates," or traitors. While Sunnis make up around three-fourths of Syria's population, Iraq and Iran are predominantly Shiite nations.
Iran was recently the site of two deadly ISIS attacks that killed 17 people and wounded dozens more. The attacks, which occurred simultaneously during the middle of Ramadan, targeted both the Iranian Parliament and the Imam Khomeini Mausoleum in Tehran. Although they represent ISIS's first strike inside Iran, they signal the group's mounting animosity toward the majority-Shiite nation. In Monday's audio clip, al-Muhajer explicitly praised the recent attacks on Iran and called for additional bombings, referring to the nation as "weaker than a spider's web."
Al-Muhajer's message also referenced regions outside the Middle East, including the U.S., Europe, Russia, Australia, and the Philippines. "To the brethren of faith and belief in Europe, America, Russia, Australia, and others," he said, "your brothers in your land have done well, so take them as role models and do as they have done." On June 3, ISIS fighters carried out an attack on the London Bridge, which killed seven people and injured 48. Less than two weeks earlier, a suicide bomber detonated a homemade explosive at the Manchester Arena, killing 23 people, including children, and wounding 119. The attack occurred on May 22, just a few days before the start of Ramadan.
As I have previously reported, it is not uncommon for ISIS to carry out attacks during Ramadan, which the group regards as "the holy month of jihad." Last year, an ISIS supporter told Amarnath Amarasingam, a senior research fellow at the Institute for Strategic Dialogue, that the group's militants "want to win the honor of attaining martyrdom" during this time, adding that Ramadan marked "the first battle between Muslims led by the prophet [Muhammad] and the Kuffar" (a derogatory term for non-Muslims). For many Muslims, the monthly observance also signifies a period of military victory. With Ramadan continuing through June 24, some nations, and mosques, have taken it upon themselves to heighten security measures.