Is ISIS Leader Al-Baghdadi Dead?
Russia says it's investigating whether he was killed in an airstrike near Raqqa.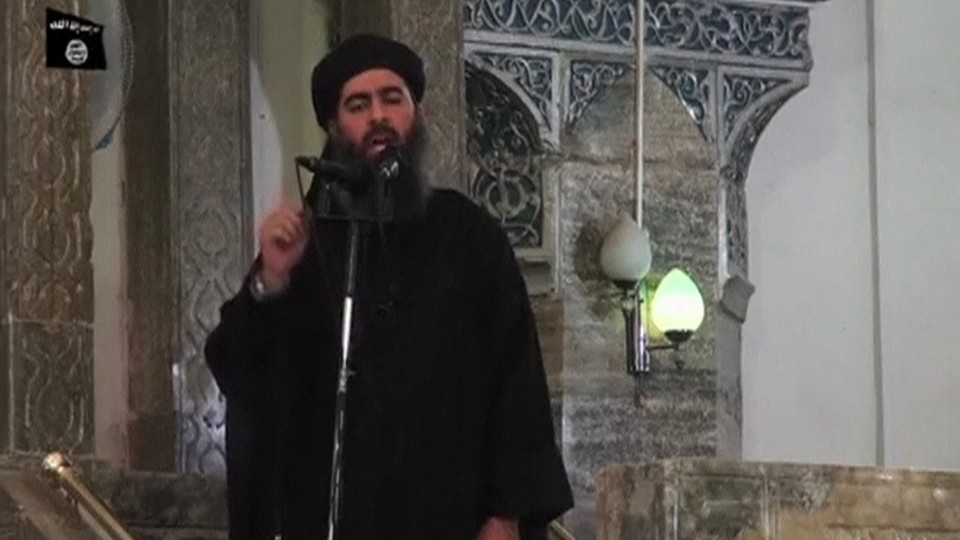 Updated at 7:20 a.m. ET
Russia's Ministry of Defense says it is investigating whether Abu Bakr al-Baghdadi, the ISIS leader, was killed in a Russian airstrike near Raqqa, Syria, on May 28.
Baghdadi has been reported dead several times previously, but Russia has rarely made such claims since its military involvement in the Syrian civil war began in September 2015. The report, which was published in Sputnik, the state-run news service, would be a devastating blow to the group that has steadily lost ground in Iraq and Syria in recent years—pushed back by U.S.-led airstrikes, as well as ground offensives by Iraqi, Kurdish, Shia, and other forces in the region. Russia's involvement in Syria has also hurt the group, which still provides potent reminders of its ability to carry out deadly attacks in Western cities.
"According to information that is checked through various channels, IS leader Ibrahim Abu-Bakr al-Baghdadi, who was killed as a result of the strike, was also present at the meeting," the Russian Defense Ministry said.  "As a result of the Su-35 and Su-34 airstrikes, high-ranking commanders of the terrorist groups who were part of the so-called IS military council, as well as about 30 mid-level field commanders and up to 300 militants of their personal security, have been killed."
The BBC cited a U.S. military spokesman as saying the U.S. could not confirm the Russian claim.
Not much is known about Baghdadi. One of the only known images of him is from June 2014, when he is seen delivering a sermon in Mosul, Iraq, soon after his group took over the city. He was last heard from in a recording that was released in December 2015.
Raqqa, ISIS's de-facto capital, has also been targeted by groups allied with the U.S. This week, the Syrian Democratic Forces (SDF), a group of Kurdish and Arab fighters backed by the U.S., captured a number of key neighborhoods near the city, which was captured by ISIS in 2014.
It's unclear whether Baghdadi's death, if confirmed, would have an impact on ISIS's activities—or its success in radicalizing people through its online propaganda. In 2011, many predicted the end of al-Qaeda when Osama bin Laden's was killed by U.S. Navy SEALs, but the group remains a potent presence in many of the countries where it operated freely—even if it has lost some of its allure to would-be jihadis who look to ISIS for inspiration. Indeed, ISIS has expanded beyond its strongholds in the Arab world, becoming a presence in Afghanistan (where it recently captured Tora Bora, once bin Laden's stronghold, from the Taliban), and the Philippines.