'I Don't Want You to Get Shooted'
In a new video, Diamond Reynolds's 4-year-old daughter implores her to be quiet after Philando Castile's death.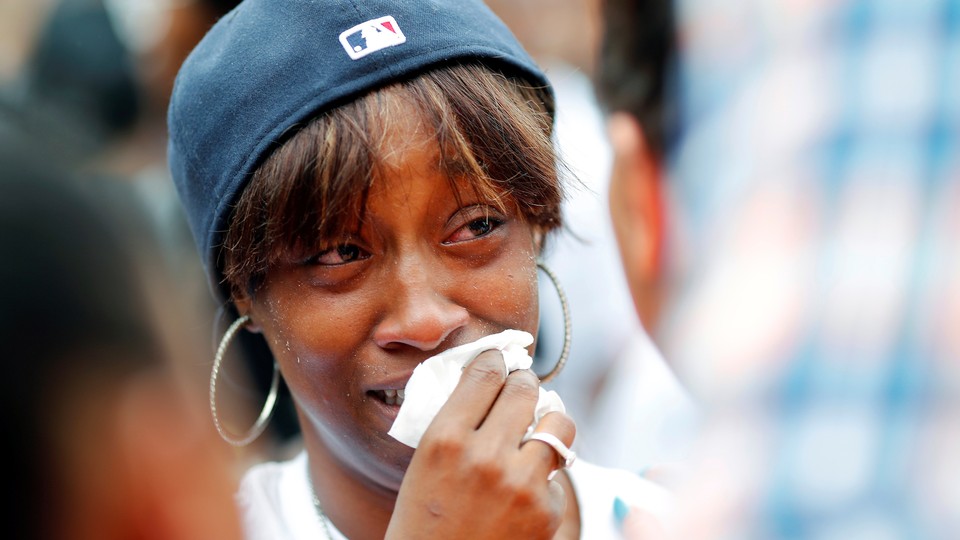 New footage from the fatal shooting of 32-year-old Philando Castile was released Wednesday, less than 24-hours after dash-cam video from the incident was made public. The video, which was released by the Minnesota Bureau of Criminal Apprehension under a public-records request, sheds more light on the moments immediately following the shooting.
The footage was among thousands of pages of documents, reports, interview transcripts, and emails released by authorities concerning the trial of Jeronimo Yanez, the former police officer who faced 20 years in prison for fatally shooting Castile seven times during a traffic stop in a St. Paul suburb in July 2016. Yanez was acquitted last week of all charges.
The full video, which was posted by journalist Tony Webster, shows Diamond Reynolds, Castile's girlfriend, with her 4-year-old daughter in the back of a police squad car in the moments following the fatal shooting. You can watch a portion of the video below (Note: It contains graphic content.)
In the video, which appears to have been recorded just moments after Castile was killed, Reynolds is seated handcuffed in the back of a squad car with her daughter when she shouts an expletive after her cell phone dies. This prompts her daughter to ask her not to scream "because I don't want you to get shooted." When Reynolds says she wishes she could take the handcuffs off, her daughter yells, "No please don't, I don't want you to get shooted … I wish this town was safer."
The video is the latest of three to reveal the moments before, during, and after the fatal shooting. Reynolds recorded a live-stream video showing the immediate aftermath of the shooting to Facebook, and dash-cam video released Tuesday revealed what took place in the moments leading up to and when the shooting took place.