Hungary's Anti-Foreign NGO Law
The new rule targets groups receiving more than 24,000 euros annually in overseas funding.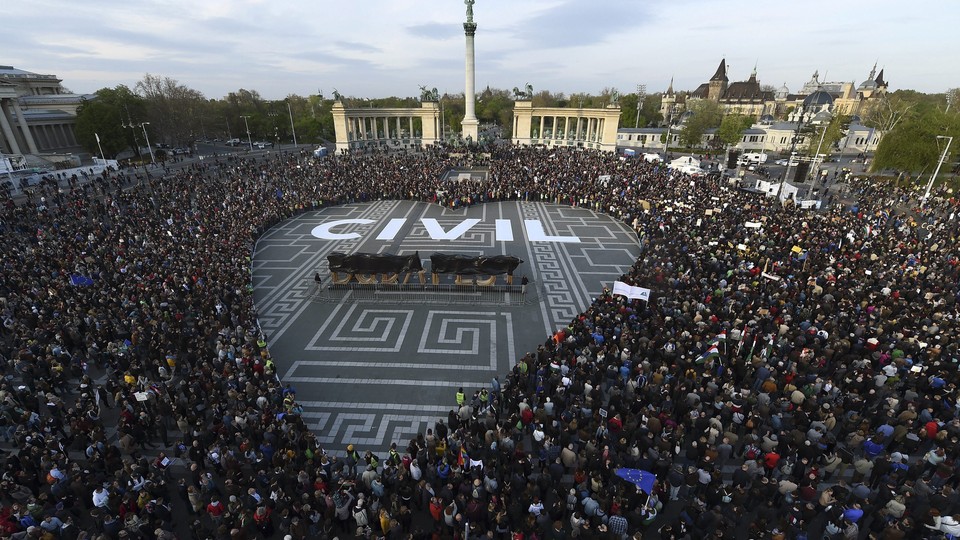 Hungary's parliament passed Tuesday a law imposing strict restrictions on NGOs that receive foreign funding—a move that has been criticized by rights organizations as a crackdown on dissent.
The law, approved 130-40, requires groups receiving more than 24,000 euros annually ($26,000) in overseas funding to register as "foreign-supported" and disclose their foreign donors, or face closure. The legislation resembles a law passed in Russia in 2012, which requires NGOs receiving foreign funding to register as "foreign agents."
Based on recommendations by the Venice Commission, the Council of Europe's advisory board, the law will only require groups to list foreign donors who give more than $1,820 in funding. It will also allow NGOs to request removal from the registry if their foreign funding dips below $26,000 for two consecutive years. While the commission characterized certain aspects of the law as "excessive," it also recognized its effort to pursue transparency as a "legitimate aim."
Hungarian Prime Minister Viktor Orbán said the law aims at improving transparency and targeting money laundering and terrorism funding, but critics of the the new rule say it's a move to silence and discredit civil society.
"Threadbare attempts to disguise this law as being necessary to protect national security cannot hide its real purpose: to stigmatize, discredit and intimidate critical NGOs and hamper their vital work," John Dalhuisen, Amnesty International's Director for Europe, said Tuesday in a statement.
The law is also widely seen as targeting George Soros, the Hungarian-born American philanthropist whose Open Society Foundations support Hungarian NGOs like the Hungarian Helsinki Committee, which the government claims works against its national interest and in favor of asylum-seekers.
Soros has refuted such characterizations.
"[Orbán] cast himself in the role of the defender of Hungarian sovereignty and me as a shady currency speculator who uses his money to flood Europe — particularly his native Hungary — with illegal immigrants as part of some vague but nefarious plot," Soros said at the Brussels Economic Forum earlier this month, adding that: "I have strenuously resisted Orban's attempts to translate our ideological differences into personal animosity — and I have succeeded."
The government also passed a law in April threatening to shutter Budapest's Central European University, which Soros also funds. The move was met with widespread protests and condemnation by the U.S. State Department, which urged Hungary to suspend the law.