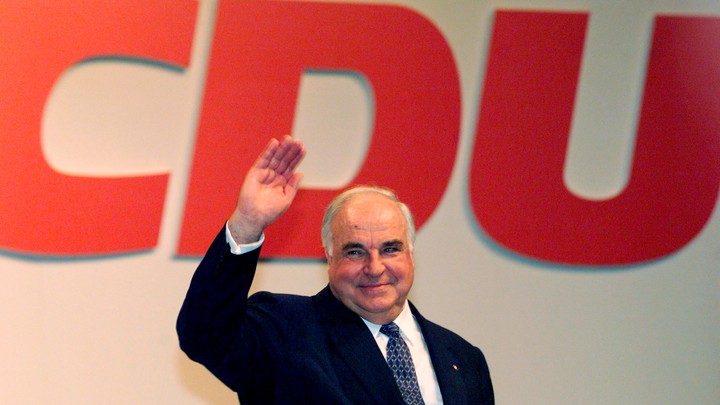 Former German Chancellor Helmut Kohl, a titan of 20th century European politics who guided his country through reunification following the collapse of the Berlin Wall, but whose legacy was tainted by a financial scandal, has died, his Christian Democratic Party confirmed Friday. He was 87.
Had Kohl's legacy been confined to overseeing the successful reunification of Germany in 1990, he'd still be remembered as one of the great modern European statesmen. But he is also widely considered to be one of the architects of the Maastricht Treaty, which established the European Union, placing him and Germany at the heart of the European project.
"I view him as the greatest European leader of the second half of the 20th century," President George H.W. Bush wrote in 2008—comments echoed by President Clinton who in 2011 called Kohl "the most important European statesman since the Second World War."
Kohl was Germany's chancellor from 1982 to 1998—a 16-year period that made him the longest-serving chancellor in modern German history. Angela Merkel, his political heir, has been chancellor since 2005. If she wins the fall election and completes her four-year term, she will have governed as long as Kohl and will define the first part of 21st century Germany the way her mentor did the latter half of the 20th.
Helmut Kohl was born in 1930 in Ludwigshafen. He was too young to be tainted by association with the Nazis, but World War II did shape his political ideals. His town was heavily bombed by the allies, and at 12 he found himself recovering charred bodies of people he knew. He began his political career began in 1947 as a 17-year-old member of the CDU. In 1969, at age 39, he became the youngest ever premier of Rhineland-Palatinate. He was the CDU's candidate in the 1976 race for chancellor, but despite coming close was unable to prevent Helmut Schmidt from remaining chancellor with outside help.
His moment came in 1982 when he became chancellor of what was then West Germany. In the early years, his chancellorship was not without controversy, as Deutsche Well points out:
There was considerable discontent with Kohl's government during his first years in office. He acquired the reputation for not solving domestic problems but just "sitting them out." He responded to criticism by repeatedly reshuffling his cabinet. His visit to the cemetery in the German city Bitburg with US President Ronald Reagan in 1985 sparked fierce debate, as members of the Waffen SS, a paramilitary organization of the Nazi regime, were buried there alongside German and American soldiers. On another occasion, he compared the head of the Soviet Communist Party, Mikhail Gorbachev, to Nazi Propaganda Minister Joseph Goebbels.

  
But Gorbachev's policies of opening up the Soviet Union ultimately benefited Kohl: The Berlin Wall fell and almost overnight Germany was one country again. Reunification made Kohl politically bulletproof at first. In the 1990 German election, the first after unification, Kohl and the CDU triumphed easily. One of the newcomers to parliament was a young East German woman named Angela Merkel, whom Kohl named minister for women and youth. She immediately became his protege, and he reportedly referred to her as "my girl."
But in the years following reunification, the economic cost of union became apparent—and the impact began to hurt Kohl politically. The 1998 election saw him move to the opposition when the Christian Democrats returned to power after 16 years. Kohl remained his party's leader until the following year when he became embroiled in a financial scandal when it was revealed the CDU had accepted illegal donations during his tenure. Merkel criticized his role—and urged the party to move forward without the man who had shaped it for decades. She became the CDU's leader and became chancellor in 2005.
Kohl retired from politics, but faced personal tragedy. His wife, Hannelore, committed suicide in 2001. He remarried in 2008 at the age of 78. His wife, Maike Richter, was 43. In later years, the former chancellor suffered from ill health, but as the financial scandal faded from public memory, he underwent a political rehabilitation as an elder statesman of German politics.
As Deutsche Welle put it: "Helmut Kohl would not have called himself the perfect politicians - and neither would his Christian Democratic colleagues, but he will go down in history as chancellor of reunification and major promoter of a united Europe."
We want to hear what you think about this article. Submit a letter to the editor or write to letters@theatlantic.com.