U.S. Company Discontinues the Siding Used on the Grenfell Tower
The cladding has a plastic interior that may have acted as an accelerant.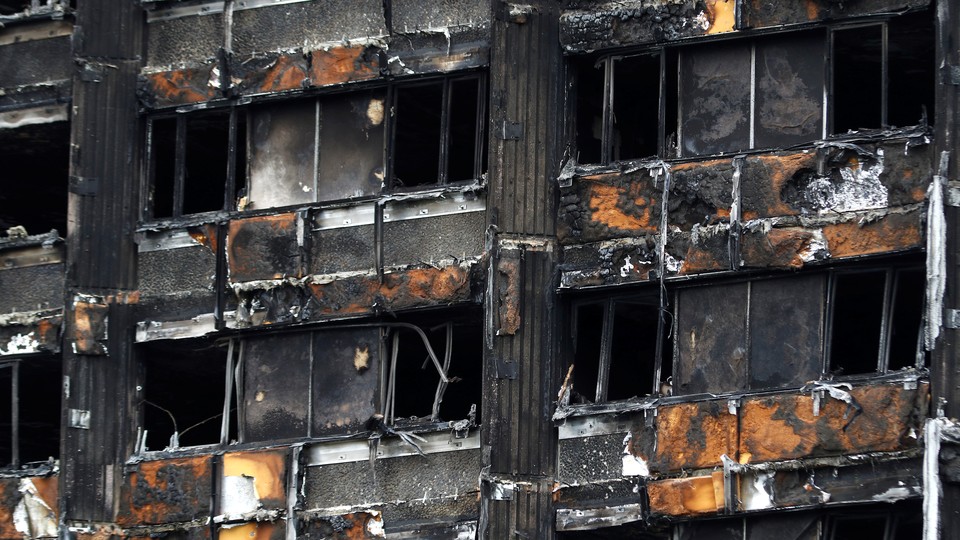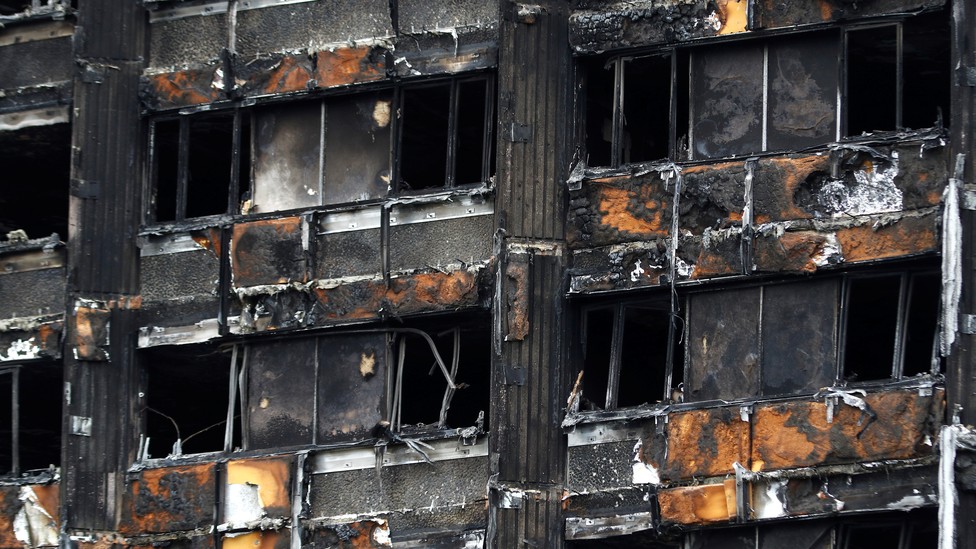 Every high-rise building in London the U.K. government has tested for combustible siding has failed the safety test, the government said Monday, bringing the total to 75. The tests, which are focused on the buildings' exteriors, were ordered after the Grenfell Tower caught fire earlier this month and killed 79 people. News of the widespread failures has angered the public, and it prompted Arconic, the U.S. company that supplied the siding, to announce it will no longer sell it.
The U.K. government has ordered more than 600 buildings across the country tested, many of which serve as public housing. Late last week, government officials ordered about 4,000 people living in five towers to evacuate after their buildings failed fire-safety tests. It was a precautionary step, but it left many families with nowhere to go, and replacing the siding could take up to six weeks.
Investigators confirmed last week that a faulty refrigerator caused the fire at Grenfell Towers. The appliance was made by Hotpoint, and the company said the fridge was not under recall, but was retesting the model in light of the fire. The investigation is still ongoing, but most of the attention has been placed on the siding, which witnesses said had burned intensely and seemed to fuel the flames during the blaze. Camden Council officials said they were removing the siding supplied by Arconic from five high rises.  The council also said it had ordered noncombustible cladding, but later found out combustible cladding had been used instead.
The siding on the Grenfell Tower, called Reynobond PE, had an aluminum exterior but was plastic on the inside, which may act as an accelerant at high temperatures. In the U.S., Reynobond PE has been limited to use in shorter buildings because of fire-safety concerns. But the product is marketed around the world. In a statement Monday, Arconic said: "Because of the inconsistency of building codes across the world and issues that have arisen in the wake of the Grenfell Tower tragedy regarding code compliance of cladding systems, Arconic is discontinuing global sales of Reynobond PE for use in high-rise applications."
Government officials said the combustible cladding is against building standards, but the supplier that bought the siding, and the contractor that installed it, have both said it met requirements. Arconic makes a similar siding with a flame-resistant core, but it was decided to use the cheaper version. The difference in price was about $2.50 per square meter.