Greg Gianforte's Sentence for Assaulting a Journalist
The Montana congressman-elect was issued a fine and community service for body-slamming Guardian reporter Ben Jacobs.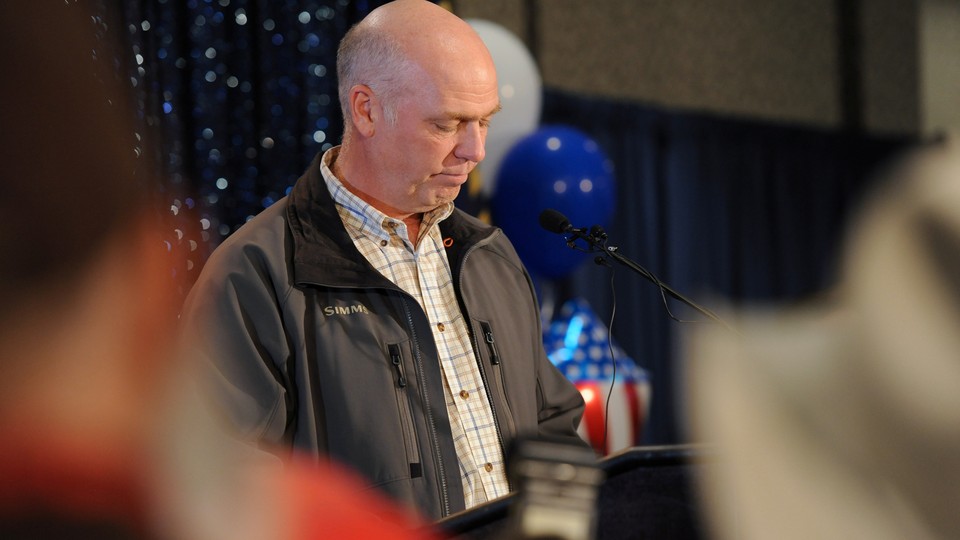 Congressman-elect Greg Gianforte was sentenced to community service, anger management, and a $385 fine Monday for assaulting a reporter on the eve of the Montana special election.
The Montana Republican was sentenced to 40 hours of community service and 20 hours of anger-management classes after he plead guilty to misdemeanor assault for body slamming Guardian reporter Ben Jacobs to the ground last month after Jacobs asked the candidate about the controversial GOP health-care bill. The altercation, which was captured on audio recording, occurred hours before the polls were scheduled to open.
Gianforte, who was running to fill the seat vacated by Ryan Zinke who became President Trump's interior secretary, won the race with more than 50 percent of the vote. Though the campaign originally blamed the incident on the "aggressive behavior from a liberal journalist," Gianforte later apologized to Jacobs at his election victory party, and pledged to donate $50,000 to the Committee to Protect Journalists.
"I look forward to putting this behind me," Gianforte told reporters following the hearing. "I've apologized to Mr. Ben Jacobs, he has accepted my apology, I'm grateful for that, and now I look forward to going to work in Washington."
Jacobs accepted Gianforte's apology during a courtroom statement, but cautioned against the "national ramifications" such incidents could have in the future.
"While I have no doubt that actions like these were an aberration for congressman-elect Gianforte personally, I worry that, in context of our political debate, they have become increasingly common," Jacobs said, adding: "In recent years, our discourse has grown increasingly rancorous and our debate increasingly vile. This needs to stop."