A Majority for France's Macron
Early predictions from the first round of voting suggest strong support for La République En Marche.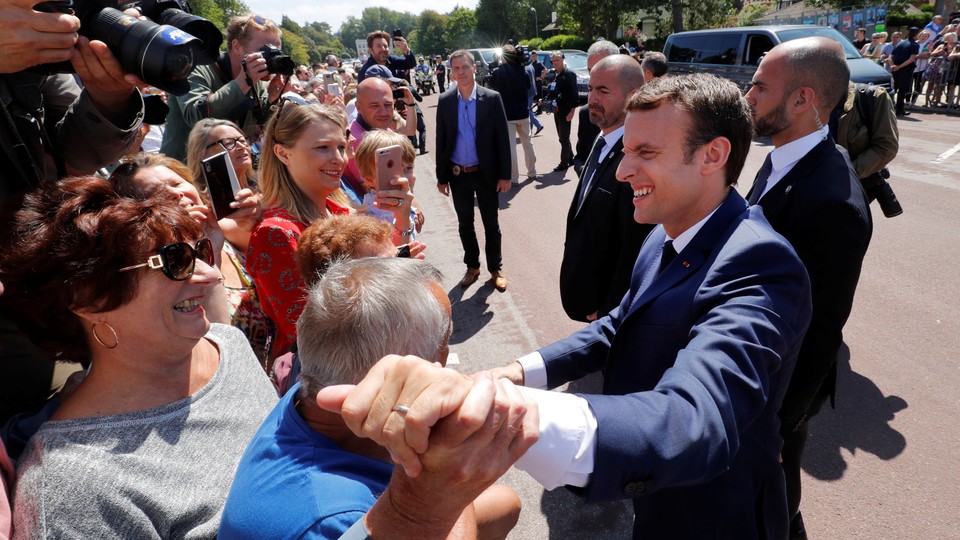 French President Emmanuel Macron's party took a big lead in the first round of parliamentary elections Sunday. Early results showed Macron's newly formed centrist party would win about 33 percent of the vote, possibly translating to more than 400 seats for La République En Marche (LREM). It was again another blow to establishment parties, and it means Macron will likely have the majority in France's National Assembly he needs to bring about the economic reforms voters elected him on.
Turnout in the election was about 40 percent at 5 p.m. local time, much less than the 2012 election. And pollsters said it could be a record low. French voters often give the president an outright majority, as was the case in the past three elections. But Macron's party is not even a year old, and there was doubt voters would do so again, especially in a political climate so divided.
Poll projections put the conservative party, The Republicans, at about 21 percent, which would make them the primary opposition force with more than 80 seats. Marine Le Pen's far-right National Front won 13 percent, which pollsters said would fetch between one and 10 seats, a massive disappointment for the former presidential candidate. France Unbowed won 11 percent. And the Socialist party and its group of leftist allies won about 9 percent.
This is the first of two rounds in which voters select 577 members for the National Assembly on five-year terms. It's the lower house of Parliament, and considered the more powerful. Macron ran on a platform focused on the economy, and promised to assuage France's 10-percent unemployment. He plans to do this by overhauling labor laws—a strategy that's upset unions—making it easier to hire and fire employees, and to invest in renewable energy. He needs a majority in Parliament to do this.
The president holds a lot of power in France, but without a majority Macron's would be greatly stifled. That's because it's the Parliament that dictates policy and selects a prime minister. But this is not the end of the election. France has a two-vote system. In order to win outright, a candidate must receive more than 50 percent of votes. In Sunday's election, there were about 7,900 candidates. If there's no clear majority, the top two qualifiers (and sometimes a third) run again. In this case, that'll happen a week from now.
Some candidates up for reelection were Macron's rivals in the presidential race, most notably Marine Le Pen. She is running in Pas-de-Calais constituency in the north of France, where her party has a strong foothold. Le Pen's party, which has a far-right anti-immigration platform, was expected to gain this time around. She carried 45 constituencies in the presidential election, and while the National Front was expected to win more than the two seats it currently holds, it needs 15 in order to form a parliamentary group. With 13 percent of the vote, that doesn't seem a possibility.
Jean-Luc Melenchon, who ran for president under the communist-backed party France Unbowed, ran for election in Marseille. His party, and a group of other leftist allies are believed to have won more than 10 seats.
After winning the presidency, Macron's largest hurdle was to assemble a roster of legislative candidates that could carry his newly formed party in parliament. He did that, putting together a diverse roster, some of whom had never run for office, including a mathematician and a former bull fighter. It was also comprised of more than 40 percent women. Early polls suggested Macron's party would make a good showing, and the early election results proved right. But extremely low voter turnout suggested that French voters feel apathetic or perhaps exhausted with politics.