Macron Wins Big in the Parliamentary Elections
Early projections suggest the president's Republic on the Move! party will win 355 seats, giving him an absolute majority.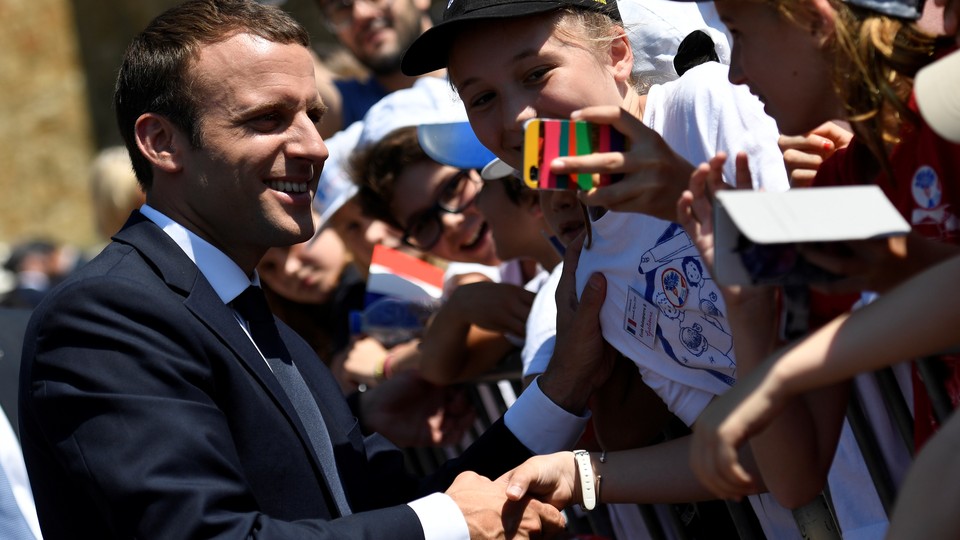 As predicted, French President Emmanuel Macron's party dominated the second-round of parliamentary voting on Sunday. Early polls projected that his Republic on the Move! (LREM) party will win more than 355 seats in the country's 577-seat lower house. The win has pushed aside France's mainstream political parties, and it also gives Macron an absolute majority, meaning he will likely be able to overhaul the country's restrictive labor laws.
More than 80 percent of the vote has been counted, and behind LREM, the conservative Republicans won 22 percent, giving them about 125 seats. The Socialist Party, which ruled for the last five years, will likely secure just 40 seats, the lowest ever since World War II. "Tonight, the collapse of the Socialist Party is beyond doubt. The president of the Republic has all the powers," Jean-Christophe Cambadelis, the party's leader, said just before he announced he'd step down.
Marine Le Pen's far-right National Front party won at least eight seats. Le Pen also won her race for a seat in the National Assembly, the first time she's held the position. In a speech Sunday, Le Pen said she'd "fight with all necessary means the harmful projects of the government," especially what she called Macron' pro-European and pro-migrant policies.
Macron's party helped blur the normal left-right lines by pulling newcomers and candidates from either side into its ranks. And in an moment of political polarization, it greatly helped his odds. After last week's election predicted massive wins for LREM, opponents warned voters that a such a substantial majority could give Macron too much power. Their pleas seemed to have some effect, because LREM was projected to win as many as 470 seats, but Sunday's results project it will likely have 100 less. Still, the scale of the win means Macron will have plenty of parliamentary support to push through his reforms, including the controversial move to break labor power and make it easier it hire and fire workers.
Even so, Macron must proceed delicately. Voter turnout was about 42 percent, a record low, and France has a history of union-backed street protest that has forced lawmakers to tone down their legislation.
The conservative Republicans party now becomes the largest opposition bloc. But Far-left former presidential candidate Jean-Luc Melenchon, who leads the France Unbowed party, vowed that it was his party that would most fervently resist Macron, especially his labor reform policies. France Unbowed combined with the Communist Party to win more than 26 seats, and Melenchon might now pick up some support in the Socialist Party.
In his speech Sunday, he struck a defiant tone, saying that"it is France Unbowed which will call the country, when the moment comes, to social resistance. I hereby inform the new powers that not a foot of ground will be given up in the labor law struggle."