Four Separate Attacks Kill At Least 44 in Pakistan
The attacks occurred on the last Friday of Ramadan, a time of increased violence from Islamist terrorist groups.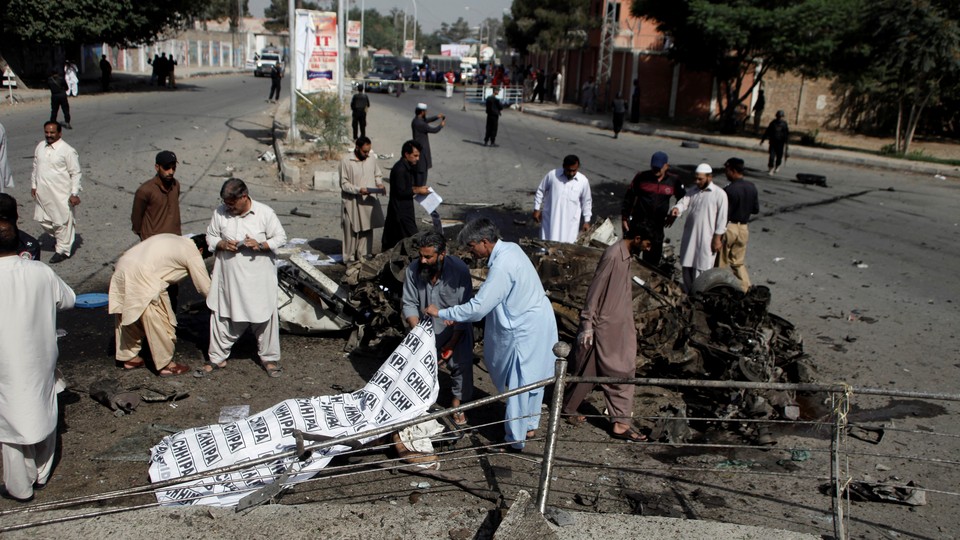 Pakistan was hit by four attacks on Friday across three of the nation's major cities, local officials reported. Three of the attacks were bombings, while the fourth was a shooting targeting police forces in the southern city of Karachi. Together, the attacks resulted in at least 44 casualties and around 140 injuries, signaling a period of increased violence before the end of Ramadan, the Islamic holy month.
The first attack took place near the office of the inspector general of police in the southwestern city of Quetta—a site of frequent attacks from both militant and insurgent groups. After being stopped at a checkpoint by an officer, a lone bomber detonated a car filled with more than 210 pounds of explosives. A spokesman for the Civil Hospital in Quetta said at least 13 bodies were retrieved, while around 20 people were wounded. Nine of the wounded and seven of the deceased were security officials. According to a spokesman for the Baluchistan province, where Quetta is located, the bomber may have targeted the inspector general's office.
In the wake of the incident, both ISIS and the Taliban claimed responsibility for the attack via messages to journalists. "Our attacks will continue until a true sharia system is enforced in Pakistan," a spokesman for Jamaat ur Ahrar, an affiliate of the Pakistani Taliban, told Reuters. While elements of Sharia, or Islamic law, have been incorporated into Pakistan's legislation, the nation largely upholds the common law of England and Wales. On Friday, ISIS provided a contradictory account of the explosion, claiming that one of its followers, Abu Othman al-Khorasani, detonated a suicide belt in a targeted attack on local police.
Hours after the first attack, a pair of bombings occurred just three minutes apart in Parachinar, a majority-Shiite city in northwestern Pakistan. At least 27 people were killed and another 120 wounded. The nation's military said helicopters were being used to transport the wounded to other cities. The explosions took place at a market filled with people buying food to break their daily fast for Ramadan. While no group has claimed responsibility for the blasts, the bombings were likely directed at the city's Shitte Muslims, whom Sunni extremists like ISIS and the Taliban regard as traitors.
In a final bout of violence on Friday evening, gunmen shot and killed at least four police officers at a roadside restaurant in Karachi. The identity and motivation of the attackers remains unclear. While Pakistan's prime minister, Nawaz Sharif, has yet to comment on the shooting, he condemned the dual attacks in Parachinar on Friday, arguing that terrorists were attacking "soft targets," or vulnerable groups. "No Muslim can ever imagine to commit such horrific act," Sharif said in a statement. "Such acts of terrorism will be dealt with full power of the state."