A Deadly Forest Fire in Portugal
Most of the victims were killed in their cars on a roadway as they tried to escape the blaze.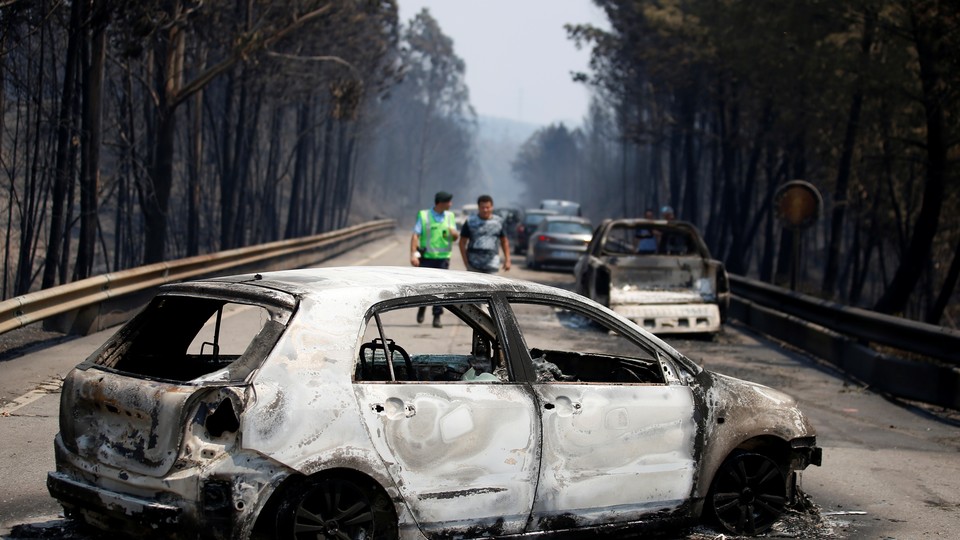 A forest fire that's being called the most deadly in Portugal's history has killed more than 60 people, many of them trapped in cars they tried to escape the area. Wind, dry air, and heat topping 104 degrees Fahrenheit have worsened conditions for firefighters, who are still battling flames in the central region of Pedrógão Grande. Prime Minister António Costa called it "the worst tragedy in terms of human lives that we've known in recent years."
A "dry thunderstorm" is believed to have started the fire. The phenomenon happens when rain evaporates because of high temperatures before hitting the ground. Investigators found a tree struck by lightning that's thought to be where the fire began on Saturday, about 100 miles northeast of Lisbon. The blaze sent a thick wall of smoke through the region, and 11 districts were under under surveillance on Sunday because of fire risk.
Interior Ministry official Jorge Gomes said that of the dead, at least 30 were killed in their cars on a forested roadway between the towns of Figueiro dos Vinhos and Castanheira de Pera. There, flames jumped the road and incinerated a line of cars fleeing as the fire destroyed their homes.
More than 350 soldiers and about 1,600 firefighters were battling to put out the blaze, which has spread into five distinct fires. Prime Minister Costa said emergency services responded as quickly as possible, but he acknowledged that alerts to nearby communities may have been slowed because flames destroyed some phone lines and communication towers. The European Union said its was sending firefighting aircraft, with France and Spain offering their own planes as well.
Fires in the area are common during the summer, but the region has experienced a heat wave recently, and dry winds have worsened conditions. Last August, a rash of fires killed four people, including three on the island of Madeira. The other most deadly fire for the country came in 1966, when 25 Portuguese soldiers died while fighting a blaze.