Family of Terence Crutcher Files Wrongful Death Suit
Crutcher's family is seeking damages and widespread reform after Tulsa police officer Betty Jo Shelby was found not guilty of the fatal shooting in May.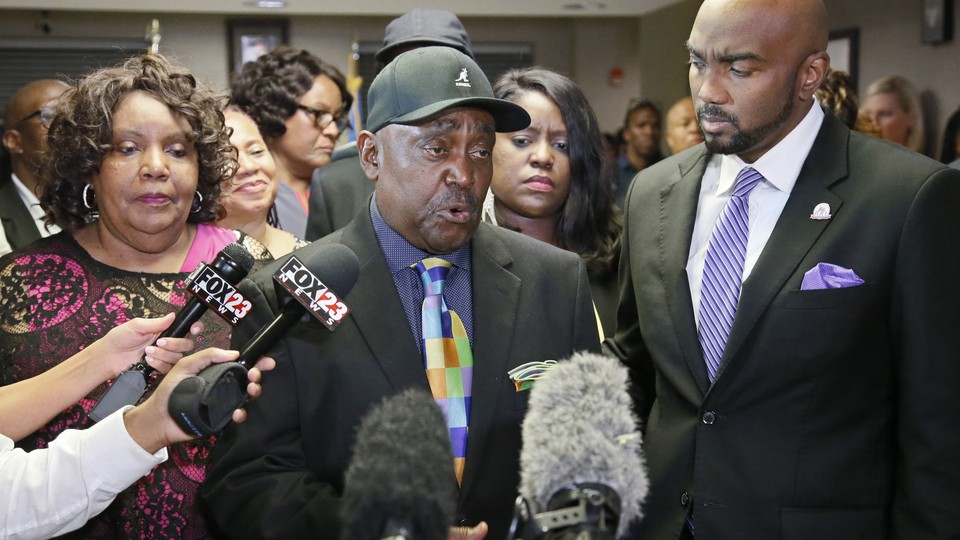 The family of Terence Crutcher, an unarmed black man who was fatally shot on September 16 by Tulsa police officer Betty Jo Shelby, filed a wrongful death lawsuit Thursday, seeking damages and widespread departmental reform. Shelby was previously charged with first-degree manslaughter, but was acquitted of all charges on May 17. Two days later, she was reinstated to her post by Tulsa Police Chief Chuck Jordan. An internal investigation is currently determining whether Shelby will be allowed back on street patrol.
While Crutcher's death was captured on video, details surrounding the case are murky. The dashboard camera of a police car at the scene shows Crutcher walking away from a group of officers with his hands over his head—but Shelby maintains that Crutcher ignored her request to lie down and continued to reach into his pockets. Shelby also said Crutcher reached inside his SUV while he was being apprehended by police, causing her to believe he had a gun. Police found no evidence of a weapon in the SUV, but a toxicology report later revealed that Crutcher was under the influence of two hallucinogenic drugs, including PCP.
While the judge called the shooting "a very difficult case with lots of difficult issues," he asked the courtroom to trust in the justice system and its verdict. But even the jury appeared unconvinced of Shelby's complete innocence. "Many on the jury could never get comfortable with the concept of Betty Shelby being blameless for Mr. Crutcher's death," the foreman of the jury wrote in a public court memo following Shelby's reinstatement. The forman also said that Shelby "could have saved [Crutcher's] life" by using her stun gun instead of her firearm—though another officer reportedly did use a stun gun moments before the shooting.
In the wake of the acquittal, Crutcher's family remained adamant that Shelby was guilty. "Let it be known that I believe in my heart that Betty Shelby got away with murder," Crutcher's father, Joseph, told reporters at the time. "I don't know what was in the mind of that jury." Crutcher's sister, Tiffany, even accused the officers of colluding with one another. "It's very clear that there was no justification for my brother being executed, and it's very clear that all of the officers involved tried to cover up this murder," Crutcher told reporters, adding: "What's very clear is the corruption of the Tulsa Police Department."
Nearly a month after the verdict, Crutcher's family is seeking at least $75,000 in damages, as well as major institutional changes within the Tulsa Police Department. Thursday's lawsuit calls for mandatory officer training with a specific focus on suspects with substance abuse or mental health issues. The lawsuit also asks that all officers' dash cameras be activated during encounters with civilians.
While the Crutcher family seeks retribution for what they believe to be a wrongful verdict, Shelby's attorney, Shannon McMurray, remains confident that her client is in no legal jeopardy. "Just as in the criminal case, I can confidently say that Officer Shelby's actions will be justified," McMurray told the Associated Press. She added that the Crutcher family's lawsuit was full of factual errors and omissions.