EU Hits Google With Record $2.7 Billion Antitrust Fine
The tech giant says it will consider an appeal.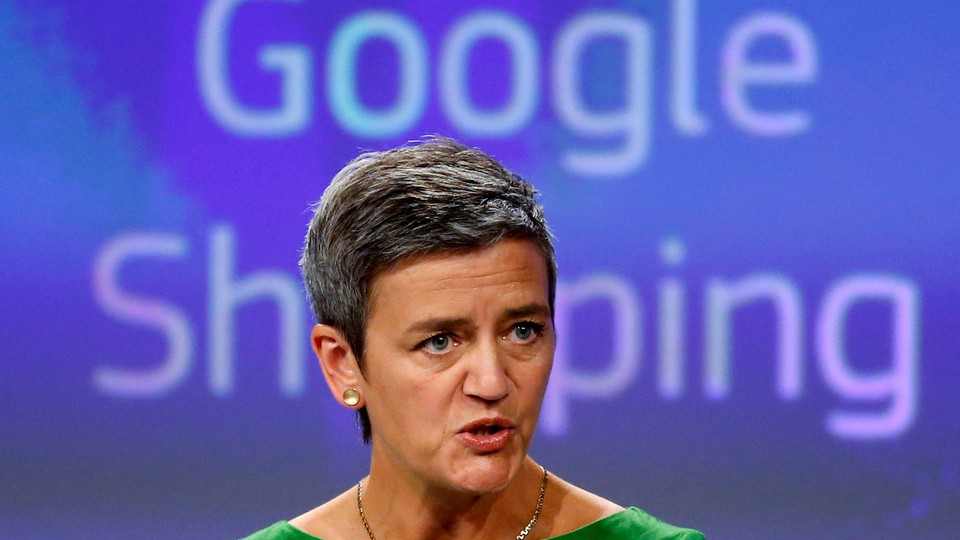 The European Commission has fined Google a record $2.7 billion for the way it promotes its own shopping service over those of its rivals, and ordered the tech giant to change the way it shows the results or face further fines.
"What Google has done is illegal under EU antitrust rules," Margrethe Vestager, the European Union's Competition Commissioner, said in a statement. "It has denied other companies the chance to compete on their merits and to innovate, and most importantly it has denied European consumers the benefits of competition, genuine choice and innovation."
Google in a statement said it "respectfully disagree[s]" with the ruling and will review it "as we consider an appeal."
The EC said it was up to Google to decide how it would change its search results related to shopping. But if the company fails to comply, it will be ordered to pay 5 percent of Alphabet's daily worldwide earnings—an amount equivalent to about $14 million each day. Alphabet is Google's parent company.
The ruling is the latest run-in U.S. tech companies have had with the EU's regulators, who regularly target them for antitrust and tax-related issues.  In August 2016, Vestager demanded that Apple repay $14.5 billion in back taxes, calling the incentives the company received in Ireland "illegal tax benefits."  Apple CEO Tim Cook called that ruling "maddening." Vestager is also investigating Amazon's tax practices in Europe and has fined Facebook over its acquisition of WhatsApp. But it's Google that has felt the brunt of the rulings: Last year the EC announced it was investigating Google mobile-operating system Android on antitrust charges. It also being scrutinized for its advertising, which the bloc says violates its rules.
The EC's moves have prompted criticism that European regulators are deliberately targeting U.S. tech companies. The bloc's regulators reject the accusation. The companies, too, have denied any wrongdoing.