Dozens Killed in Explosion Outside Afghan Bank
A suicide bomber targeted Afghan security personnel trying to collect their salaries before a major Muslim holiday.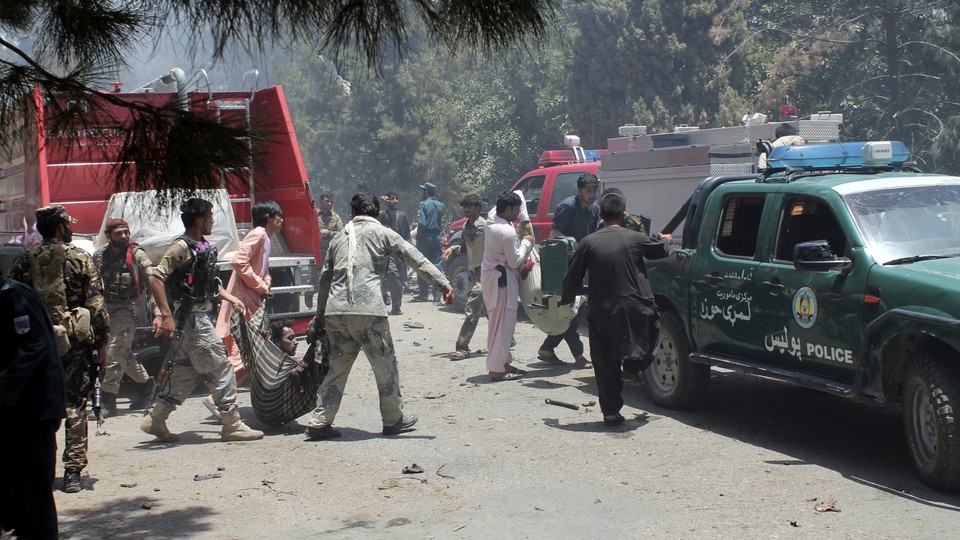 At least 34 are dead and 58 wounded in a Thursday car bomb attack outside a bank in Helmand, a southern province in Afghanistan. The explosion, carried out by a lone suicide bomber, targeted Afghan security personnel who were waiting to collect their salaries ahead of Eid-al-Fitr, or the "festival of breaking the fast," a Muslim holiday celebrating the end of Ramadan. The Taliban has since claimed responsibility for the attack, citing a higher death toll.
While the group argued that no civilians were killed in the explosion, government officials say the majority of the deceased are civilians. Some were waiting to collect their salaries outside a branch of the New Kabul Bank in Lashkar Gah, Helmand's capital, while others were shopping for the Eid festival. A local policeman at the scene said that children were among the wounded. The AP reports that a 12-year-old girl named Hosnia was left searching for her father and brother outside the bank after her father promised to take her shoe shopping for the holiday.
Both the timing and location of the attack appear to be strategic. Ramadan often marks a period of increased violence for Islamist militant groups, who seek martyrdom during what they consider to be "the holy month of jihad." In May, a Taliban spokesman reportedly referred to violence as "an obligatory worship," adding that "every obligatory act of worship has 70 times more reward in Ramadan." It is also common for the Taliban to attack Afghan bank buildings, which are all but guaranteed to attract security forces seeking their monthly salaries. Last month, an attack on a New Kabul Bank branch in Paktia, an eastern Afghan province, resulted in at least three deaths.
As the Taliban seeks to ramp up attacks in Afghanistan as part of its spring offensive, the Helmand province has been a major target. Helmand is currently one of the world's largest producers of opium, which the Taliban harvests before selling to traffickers for a steep profit. For years, Helmand was also the site of military conflict between Taliban forces and British and U.S. troops. Although the U.S.-led combat mission in Afghanistan ended in 2014, the Trump administration deployed a new set of troops to Helmand at the end of April. In recent years, Afghan security forces, backed by NATO, have struggled to stave off the Taliban, which now controls large swathes of the province.
On Thursday, top Afghan officials said the latest attack was particularly offensive, given its timing. "These brutal terrorist attacks … prove that [insurgents] have no respect for any religion or faith," the nation's president, Ashraf Ghani, said in a statement, in which he also referred to the attackers as "enemies of humanity." On Thursday morning, a spokesman for Afghan Chief Executive Abdullah Abdullah also tweeted about the incident, calling it an "absolutely miserable catastrophe." The majority of the victims, he said, were "innocent souls who were shopping for Eid" before "their joyful moments turned into nightmare."