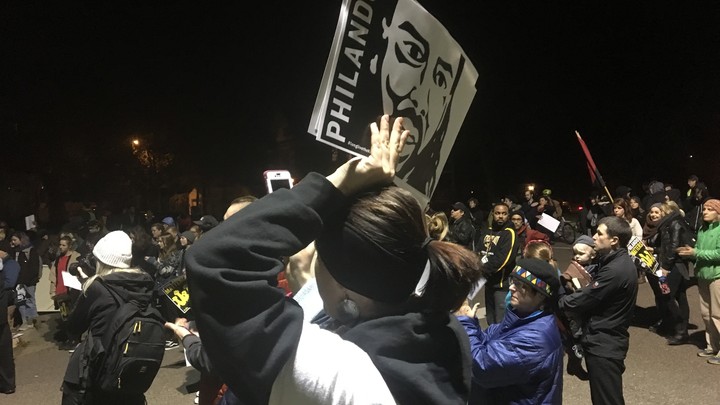 Dashcam footage seen by investigators and members of the courtroom during the trial of former police officer Jeronimo Yanez was made public Tuesday, shedding new light on the shooting of 32-year-old Philando Castile. Yanez was previously accused of second-degree manslaughter after he repeatedly shot Castile at a traffic stop in a suburb of St. Paul, Minnesota, but was acquitted of all charges on Friday. Defense attorneys argued that Yanez feared for his life after Castile informed him he had a gun in the car for which he had obtained a legal permit.
Many details of the shooting were already public thanks to a live-stream video from Castile's girlfriend, Diamond Reynolds, which was widely shared online. But the dashcam footage from Yanez's patrol car offers new insight into what happened in the moments leading up to the shooting. (Note: The video below contains graphic content.)
In the video, Yanez approaches Castile's vehicle and informs him that one of his brake lights is out. (Yanez's lawyer argued in court that Castile had been pulled over because he matched the description of a robbery suspect, in addition to the fact that his car smelled of marijuana.) Yanez then asks for Castile's driver's license and proof of insurance. At this point, Castile informs him that he has a firearm in his possession, to which Yanez shouts: "Don't pull it out!" Seconds later, Yanez fires seven shots into the car.
The video seems to confirm the testimony of another officer on the scene, Joseph Kauser, who said the conservation between Yanez and Castile was calm and relaxed prior to the shooting. Even after the shooting, Castile's girlfriend can be heard calmly telling Yanez that her boyfriend was simply reaching for his wallet. Yanez, however, is visibly shaken by the incident, shouting expletives while he calls for backup. "I told him not to reach for it," he says. "I told him to get his hand out." At the end of the video, Yanez tells a female supervising officer that  Castile's grip was "a lot wider than a wallet." He added: "I don't know where the gun was. He didn't tell me where the [expletive] gun was."
During the trial, the jurors—two of whom were black and ten of whom were white—debated whether Yanez had demonstrated "culpable negligence" by shooting Castile. They reportedly asked to see the dashcam video a second time during their deliberations, which lasted four-and-a-half days following two weeks of testimony. In the wake of Friday's verdict, the City of St. Anthony said Yanez had been fired from their police force, stating: "The public will be best served if Officer Yanez is no longer a police officer in our city."
We want to hear what you think about this article. Submit a letter to the editor or write to letters@theatlantic.com.
Aria Bendix
is a frequent contributor to
The Atlantic
, and a former editorial fellow at
CityLab
. Her work has appeared on
Bustle
and
The Harvard Crimson
.