Civilian Deaths Likely in U.S.-Led Coalition Strike
An independent war monitor claims that 57 civilians were killed in a Monday attack in al-Mayadeen.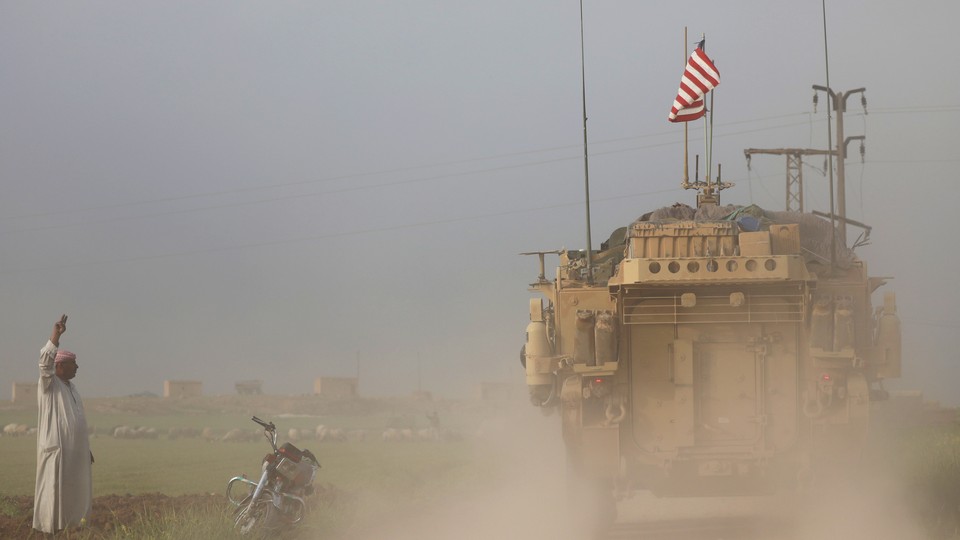 U.S.-led coalition forces carried out a series of aistrikes on Sunday and Monday in the eastern Syrian town of al-Mayadeen, the coalition confirmed Tuesday. While the strikes were directed at ISIS facilities, the Syrian Observatory for Human Rights—a U.K.-based watchdog that has long monitored the conflict in the region—claimed that at least 57 civilians were killed in Monday's attack. The U.S. Central Command (CENTCOM) said it would assess the allegations and release its own findings in its monthly civilian casualty report.
According to Joe Scrocca, the coalition's director of public affairs, the strikes on June 25 and 26 targeted "known ISIS command and control facilities and other ISIS infrastructure" in al-Mayadeen. ISIS is widely suspected of having moved its leadership and key operational facilities to al-Mayadeen from its de-facto capital in Raqqa. "The removal of these facilities [in al-Mayadeen] disrupts ISIS's ability to facilitate and provoke terrorist attacks against the coalition, our partner forces, and in our homelands," Scrocca told Reuters, adding: "This mission was meticulously planned and executed to reduce the risk of collateral damage and potential harm to non-combatants."
Despite these efforts, both the Syrian Observatory for Human Rights and local Syrian news outlets reported that Monday's raid destroyed an ISIS-held prison containing numerous civilians. In addition to the deaths of 50-plus civilian inmates, at least 15 ISIS fighters were killed in the attack, the Syrian Observatory said Tuesday. The prison, which was seized by ISIS in 2014, reportedly contained around 100 detainees at the time of the strike, suggesting that the death toll may continue to rise.
If confirmed, the watchdog's report could represent a pattern of escalating civilian casualties in U.S.-led coalition airstrikes in Iraq and Syria. In early June, CENTCOM reported that at least 484 civilians had been unintentionally killed since the start of Operation Inherent Resolve, the U.S. military campaign to destroy ISIS in Iraq and Syria, in 2014. The British nonprofit Airwars places the toll even higher, estimating that more than 4,000 civilians have been killed by U.S.-led airstrikes in Iraq, Syria, and Libya. On June 14, an independent UN investigation reported that increased U.S. airstrikes in and around Raqqa had "resulted not only in staggering loss of civilian life," but also the displacement of around 160,000 civilians.