Chinese Nobel Laureate Released From Prison
Liu Xiaobo was granted medical parole after being diagnosed with terminal liver cancer.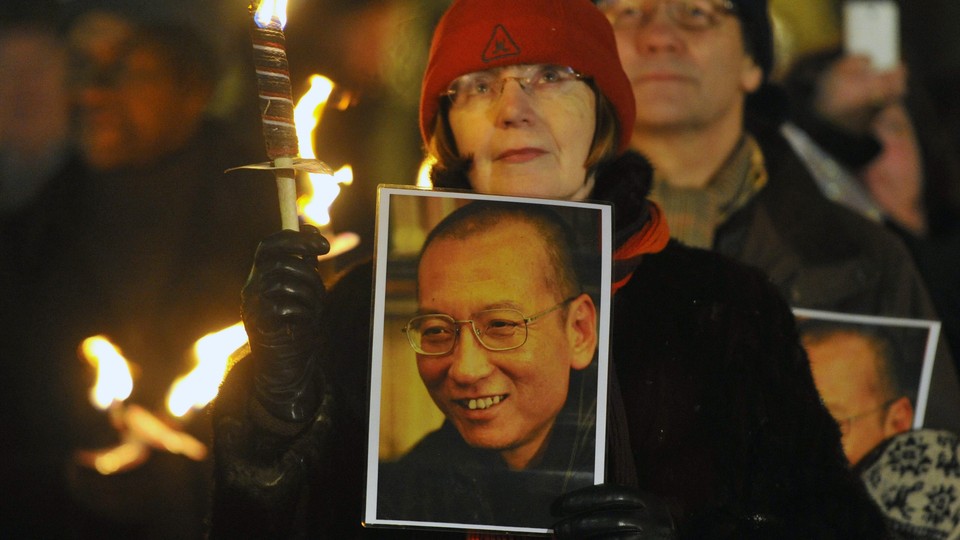 Liu Xiaobo, a Chinese writer, activist, and the recipient of the 2010 Nobel Peace Prize, has been granted parole more than seven years into an 11-year prison sentence, his lawyers announced Monday. While Liu was expected to remain in jail until 2020, his lawyers cited a late-stage cancer diagnosis as the reason for his early release. Liu was reportedly diagnosed last month with terminal liver cancer and is currently undergoing medical treatment.
At 61 years old, Liu is perhaps known best for his role in the 1989 student-led protests in Tiananmen Square, in which hundreds of demonstrators were killed while demanding democratic reform in China. In addition to delivering passionate speeches, Liu and his colleagues organized a three-day hunger strike and helped to negotiate the peaceful withdraw of thousands of student protesters, in turn saving countless lives. Shortly after, Liu was arrested for his involvement and forced to serve 21 months in jail. He was later forbidden from teaching at state institutions and his publications were banned throughout China.
In 1996, Liu was sentenced to three years in a labor camp for criticizing China's one-party Communist system. It was during this time that he married his wife, Liu Xia, who was placed on house arrest in 2010 after informing Liu of his Nobel Prize win. In 2008, Liu was instrumental in writing Charter 08, a manifesto calling for greater human rights and economic liberalism in China that has since garnered thousands of signatures. A mere hours before the manifesto was published online, Liu was arrested by Chinese authorities for "subversion"—one of the many offenses that the manifesto seeks to abolish. He has been imprisoned ever since.
In 2010, Liu received the Nobel Peace Prize for "his long and nonviolent struggle for fundamental human rights in China." He is the third person to receive the award while in jail, and the second to be denied the right to have a representative collect the prize on his behalf. Under the circumstances, the Norwegian Nobel Committee reserved an empty chair to honor Liu's absence. In place of an acceptance speech, a speaker at the 2010 ceremony read an essay that Liu had written for his December 2009 trial entitled "I Have No Enemies." In the essay, Liu indicated a desire to "counter the regime's hostility with utmost good will, and to dispel hatred with love."
On Monday, the Norwegian Nobel Committee released a statement applauding Liu's release, but expressing "deep worry" over how many years the activist spent in prison. "The Committee strongly regrets that it took serious illness before Chinese authorities were willing to release [Liu] from jail," the statement reads, adding: "Chinese authorities carry a heavy responsibility if Liu Xiaobo, because of his imprisonment, has been denied necessary medical treatment." The statement once more reinforced a standing invitation for Liu to collect his prize in Oslo.
Following Liu's release, his lawyer said the activist had "no special plans" other than to continue receiving medical treatment. It is unclear whether Liu has been reunited with his wife or will be able to receive visitors. In the wake of Monday's announcement, human rights activists in China and abroad questioned whether the Chinese prison system could have exacerbated Liu's condition. According to Liu's lawyer, the activist qualified to receive treatment as early as last year, but was denied medical services after refusing to admit guilt.