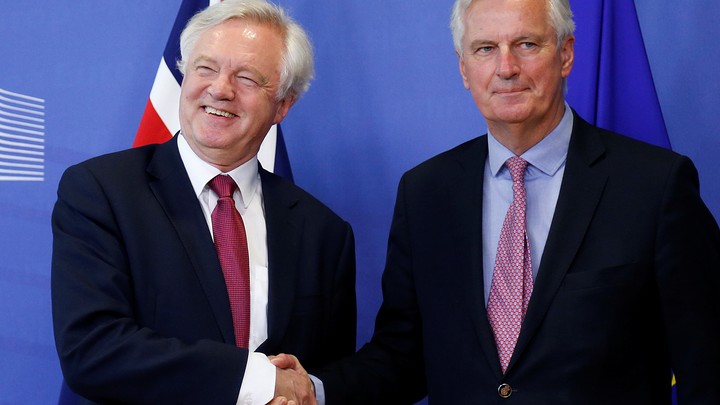 Officials gathered at the European Commission headquarters in Brussels Monday for the first day of Brexit negotiations, which will soon set the terms of the U.K.'s divorce from the European Union. While Monday's talks aimed to establish priorities and secure a timetable for the U.K.'s departure, it refrained from any discussion of trade, per the EU's request. To some extent, this signaled weakness on behalf of the U.K., though the nation's Brexit secretary, David Davis, said it was "completely consistent" with the government's objectives. "It's not when it starts, it's how it finishes that matters," Davis said at a press conference.
While Monday's negotiations offer little insight into how the deal will ultimately pan out, Davis told reporters that things were off to a "promising start." He added that the recent terrorist attacks and Grenfell Tower fire in London were an important reminder that the U.K. and EU are on the same team. "It is at testing times like these that we are reminded of the values and resolve that we share with our closest allies in Europe," Davis said. "There is more that unites us than divides us."
In a symbol of this unity, Davis exchanged gifts with the EU's chief Brexit negotiator, Michael Barnier, before negotiations began. While Barnier seemed to agree that collaboration was necessary, he displayed a more tempered optimism. "I will do all I can to put emotion to one side and stick to the facts, the figures, and the legal basis," Barnier told reporters, arguing that a "fair deal" was "far better than no deal." Still, he said, any agreement between the EU and U.K. would have "substantial" consequences. "We must lift the uncertainty caused by Brexit," Barnier added.
Part of this uncertainty is whether Northern Ireland, a U.K. province, will remain in the EU's single market and retain access to EU programs after Britain's departure. The answer to this question, among others, will also directly affect the neighboring Republic of Ireland, whose economy is largely dependent on trade with the U.K. On Monday, Barnier said Brexit's impact on Ireland would remain a top priority during the initial stages of dialogue.
Even with both parties agreeing to the terms of the negotiation, power already seems to rest with the EU. When asked if he had made any compromises with the U.K. for postponing trade negotiations, Barnier implied that the EU had already compromised enough. "I am not in a frame of mind to make concessions, or ask for concessions," he said, adding: "It's not about punishment. It is not about revenge. Basically, we are implementing the decision taken by the United Kingdom to leave the European Union, and unravel 43 years of patiently-built relations."
Indeed, many questioned whether negotiations would take place at all, given the volatility of the recent general election in the U.K. With current Prime Minister Theresa May narrowly holding on to her position, her Conservative Party is now entering negotiations with even less certainty about what kind of deal to strike. "The election result increased the probability of extreme outcomes," Phillip Souta, the head of U.K. public policy at a London-based law firm, told Bloomberg. "If there is going to be a deal, it makes it more likely to be softer than before the election—but, on the other hand, the probability of no deal at all has increased."
Whatever the outcome, the negotiation process will be lengthy. On Monday, Barnier and Davis agreed to hold negotiations for one week each month, with a group of senior experts determining the focus of discussion. With the U.K. set to leave the EU in March 2019, failure to strike to deal before then could result in broad tariffs and drastic economic consequences on both sides. Still, many U.K. officials remain hopeful that a strategic Brexit deal could benefit all involved. "The most important thing now is for us to look to the horizon," said U.K. Foreign Secretary Boris Johnson. "Think about the future. Think about the new partnership, the deep and special partnership that we want to build with our friends."
We want to hear what you think about this article. Submit a letter to the editor or write to letters@theatlantic.com.
Aria Bendix
is a frequent contributor to
The Atlantic
, and a former editorial fellow at
CityLab
. Her work has appeared on
Bustle
and
The Harvard Crimson
.