Bombers Kill Nine in Back-to-Back Blasts in Nigeria
The attacks appear to have been orchestrated by the Islamist militant group Boko Haram.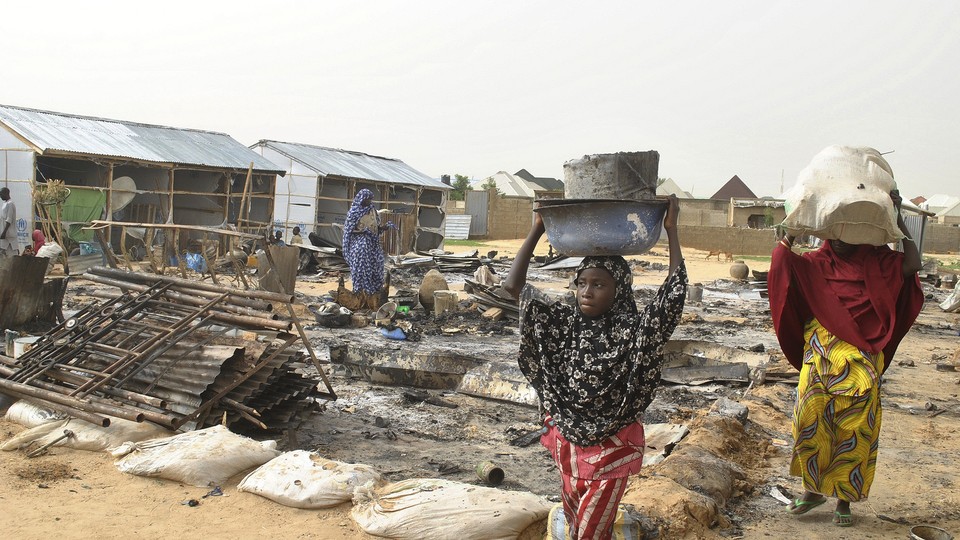 At least nine people were killed and 13 wounded in a series of blasts that took place late Sunday night and early Monday morning in Maiduguri, the capital city of Borno, a northeast Nigerian state. While no group has claimed responsibility for the attacks, they are likely the work of the Islamist militant group Boko Haram, which frequently targets the region. In a signature move for Boko Haram, the majority of the blasts were carried out by female suicide bombers.
The first attack occurred at 10:20 p.m. local time on Sunday when a male suicide bomber killed a security guard at the University of Maiduguri. About an hour later, four female suicide bombers detonated explosives in residential buildings on the outskirts of the city, killing eight people. Finally, at 4:20 a.m. local time on Monday, a third blast at the University of Maiduguri resulted in the deaths of its perpetrators: two female suicide bombers.
All together, 16 people—including the suicide bombers—were killed in the attacks, the Borno police commissioner, Damian Chukwu, announced Monday. Three days earlier, the state security agency said they had thwarted suspected bombings across four cities in northern Nigeria, including Maiduguri. The attacks were scheduled to occur during festivities celebrating the end of Ramadan, the Islamic holy month.
While Boko Haram does not always claim responsibility for its attacks, the group is said to have killed more than 20,000 people since launching a military campaign to overtake northeast Nigeria in 2009. In recent weeks, a series of attacks in and around Borno have killed dozens. On June 19, a pair of attacks at a mosque and nearby residence—likely carried out by Boko Haram—killed 12 people. Both attacks were led by female suicide bombers in a village near Maiduguri. Less than two weeks earlier, on June 7, militant fighters targeted mosques in eastern Maiduguri with explosives and anti-aircraft guns, killing 17 and injuring 34. The raid, if indeed the work of Boko Haram, would be the group's deadliest this year, according to Amnesty International.
While Boko Haram is concentrated in northeast Nigeria, the group is known to target neighboring countries like Chad, Cameroon, Benin, and Niger. Over the weekend, suspected Boko Haram militants attacked five islands near Lake Chad, killing eight soldiers and wounding 18. Despite these ongoing assaults, Nigeria's president, Muhammadu Buhari, has insisted that Boko Haram is near defeat. In December, Buhari argued that the militant group was "done for" in the Lake Chad Basin area. A year earlier, Buhari claimed that Nigeria had "technically won the war" against Boko Haram.
According to Buhari, Boko Haram is no longer capable of carrying out "conventional attacks" on communication centers and large groups of people, having resorted instead to guerrilla tactics. Indeed, although the group continues to wage attacks in the region, its threat appears to have weakened. Recent data from the Armed Conflict Location and Event Dataset indicates that the al-Qaida affiliate al-Shabaab overtook Boko Haram as Africa's deadliest terror group in 2016.