Bill Cosby's Day in Court
The former actor appeared before a judge Monday to face accusations he drugged and raped a woman 10 years ago.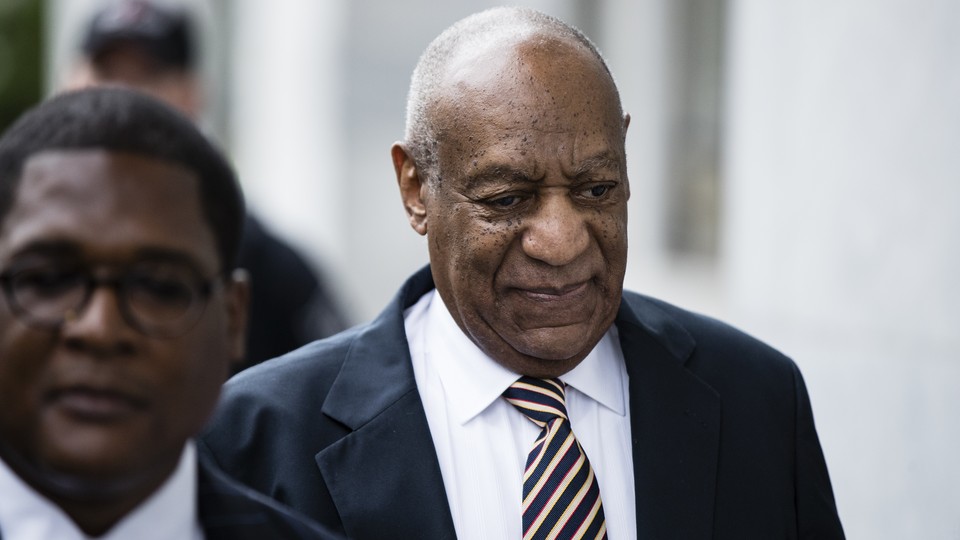 Bill Cosby was in a Pittsburgh court Monday for the first day of his trial on charges of sexually assaulting a woman in 2004—the only criminal case to emerge from the dozens of similar allegations against the legendary comedian and actor.
The Montgomery County, Pennsylvania, district attorney has charged Cosby with three counts of aggravated indecent sexual assault. If convicted, Cosby, 79, who is charged with drugging and raping Andrea Constand, faces up to 10 years in prison.
Cosby arrived at the courtroom a little after 8:30 a.m., leaning on a cane and the arm of Keshia Knight Pulliam, the actress who as a child played Rudy on The Cosby Show. In the courtroom, Cosby laughed and joked with his attorneys, according to The Washington Post. Cosby has said he will not testify, and the highlight of the trial, which is expected to last two weeks, will be the testimony of Constand, who first met Cosby while she worked at Temple University, Cosby's alma mater.
Constand's accusations center on a night in 2004 she spent at Cosby's home. At the time, Constand was the director of the university's basketball program, and Cosby had taken an interest in her. Neither person denies the meeting, nor that Cosby gave Constand several pills and a glass of wine. But aside from that their accounts differ drastically, and the jury's interpretation of what happened that night will ultimately decide if Cosby is guilty of sexual assault or not.
Constand filed a federal lawsuit in 2005, about a year after their encounter, and much of Cosby's accounting of that night comes from four days of sworn testimony he gave to lawyers. According to Cosby's account, he gave Constand the pills to help her relax because she was stressed from her job. They were three blue pills, which he said was Benadryl. He said they talked for a while about her job, then moved to a sofa, where the two began to kiss. Cosby says the sex was consensual, and that afterward he let Constand sleep at his home, on the couch, for a couple hours. Then he made her tea and gave her a muffin, he said, and she didn't mentioned anything negative about what they'd done, according to his testimony.
"She is not asking me a darn thing in a negative. She's giving no viewpoint of anything negative having happened to her. And I sat there and I watched her eat the muffin. I don't think she ate all of it ... She got up. I got up with her. Opened the door. She went out through the second door to the car, got in the car and drove away."
Constand's account is different. After she took the pills, which she says Cosby described as herbal medication that would "take the edge off," Constand says she felt paralyzed. She could not speak or move while Cosby undressed her and assaulted her, and never gave consent, nor was she in a state to give it. She says she left dazed without saying a word. Her account is similar to that of many other women who've also accused Cosby of sexual assault, dating back to the 1960s. But many of those accusations have aged beyond the statute of limitations, and only one other accuser will be allowed to testify at the trial. The woman, who is identified only as Kacey, says Cosby assaulted her in 1996 after he invited her to his home and drugged her. The prosecution had sought to include the testimony of 13 others, but the judge ruled it would be too prejudicial. Cosby has consistently and vehemently denied the allegations against him.
Constand's criminal case was originally turned down in 2005 by Montgomery County's district attorney, who later said he felt there was not enough evidence. Cosby's testimony remained sealed for a decade, and it was only after it was released by a federal judge that the county chose to bring charges against him.
The trial will likely be a retelling of what happened that night at Cosby's home, which is limited largely to Cosby's word against Constand's. Cosby's attorneys will probably seize upon the year-long delay it took Constand to report the sexual assault, making the argument that the two were in some type of relationship and that the sex was consensual. The two had known each other for some time, and Constand said twice before she'd rejected Cosby's sexual advances, but that she trusted him and saw him as a mentor. There's also no physical evidence in the case, which will make the prosecution's job even tougher. But Cosby's testimony from 2005 paints a damning portrait of him as a predator who used his celebrity to coax women into sex.
In the deposition, Cosby, who has been married since 1964, talks glibly and boastfully of having sex with a 19-year-old fan who'd sent him a poem, of plying women with the promise of career help, and of using his wealth to keep it all from his wife. Cosby also says he got seven prescriptions for Quaaludes, a depressant that acts like a sedative, which he'd told the doctor was for his sore back. But in reality, Cosby acknowledged he gave them to women.
In her opening statement, Assistant District Attorney Kristen Feden cited Cosby's remarks in the deposition. Brian McGonagle, Cosby's defense attorney, said while sexual assault is a crime, false accusation "can destroy a man, can destroy his life, his future."