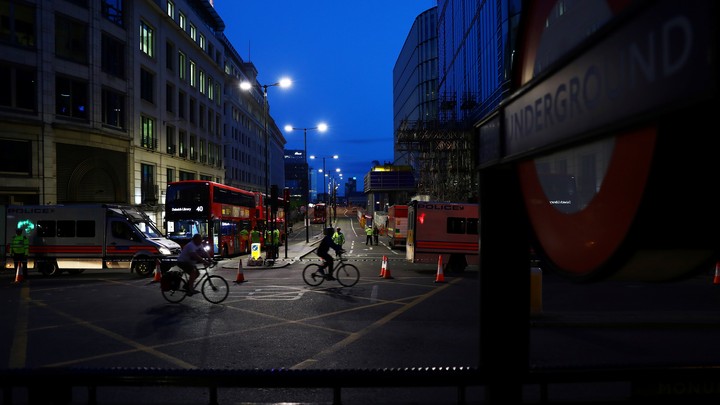 It's not yet a full day after the attack, but already some answers are beginning to materialize.
ISIS has claimed responsibility for the London Bridge attack, according to the SITE Intelligence Group, an organization that tracks terrorists. ISIS has often taken responsibility for similar attacks, even if there is little evidence to support their claim, and even if the attacker may have only been inspired by the group. Two days ago ISIS claimed responsibility for an attack on a casino in the Philippines that killed 37 people. A single gunmen opened fire, then torched gambling tables, and many of the victims died of smoke inhalation. Police later said there was "no truth" in ISIS's claim.
If it is true, however, this would be the third attack this year in the U.K. that ISIS takes credit for.
Police said they identified the three suspects, all of whom were shot and killed within eight minutes of the first call to police at 10:08 local time. Investigators were not releasing the names of the suspects, but earlier Sunday morning officer made 12 arrests in connection to the attack. Police raided two addresses in the Barking neighborhood in east London. No one was identified by name, but police said those arrested included seven women and five men, ranging from 19 to 60 years old. One man, who was 55, was released in the afternoon without charge.
The first victim was also identified Sunday evening. The family of Chrissy Archibald, a Canadian woman from British Columbia, released a statement through the government. It said, in part, that the family was grieving "the loss of our beautiful, loving daughter and sister. She had room in her heart for everyone and believed strongly that every person was to be valued and respected." The family also said she'd volunteered at a homeless shelter until recently, when she moved to Europe to live with her fiancé.
A French citizen is also one of the dead, although no name has been released. The French Embassy in the U.K. confirmed the news, also saying that seven other of its citizens were injured in the attack—four seriously. In all, there were 48 people injured, and 21 of them seriously, according to the National Health Service. At least two of the injured were police officers. And one woman was injured by a stray police bullet, of which more than 50 were fired while officer tried to kill the suspects.
As Prime Minister Theresa May said earlier Sunday, police do not believe the attack is connected to the suicide bombing in Manchester last month. But aside from the names of the attackers, what remains unknown is how the nation will react to the third terrorist attack in as many months.
National elections are only a few days away, and how the attack might influence voters is a bit of a mystery. Theresa May, who hopes to keep her spot after the June 8 elections, has said the vote will continue as scheduled. However, in a speech Sunday morning, May said "things need to change" when it comes to how the country fights extremism. She called for a complete reexamination of the country's counter-terror programs, longer sentences for even minor terrorist crimes, and to fight terrorism both online and in those "safe spaces in the real world."
She did not, however, say  exactly how this would be done.
But there was one more answer released Sunday evening: On Monday—although exit only—the London Bridge rail station will reopen.
We want to hear what you think about this article. Submit a letter to the editor or write to letters@theatlantic.com.