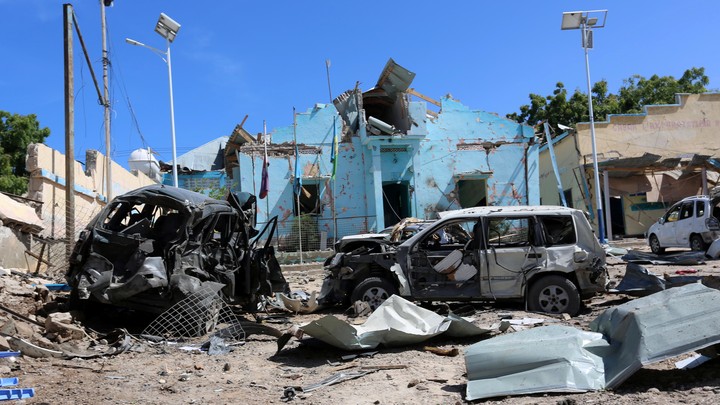 At least 15 people are dead and around 18 wounded following a car bombing led by the Islamist militant group al-Shabaab that targeted a government building in Somalia's capital, Mogadishu. According to Mohamed Hussein, a senior Somali police officer, the death toll is expected to rise given the state of those injured. Al-Shabaab has since claimed responsibility for the attack, which was carried out by a lone suicide car bomber disguised in a milk delivery van.
On Tuesday, Somalia's prime minister, Hassan Ali Khaire, said the attack targeted civilians who were preparing to celebrate Eid Al-Fitr, or the "festival of breaking the fast"—a three-day event signaling the end of Ramadan. The fact that attackers chose this day to strike, Khaire said, demonstrated their "evil-mindedness." He added that the bombing would not disrupt Somalia's larger efforts toward achieving peace and stability.
In recent years, Somalia has been the target of numerous attacks from al-Shabaab, an al-Qaeda affiliate that was forced out of Mogadishu, among other major cities and towns, in 2011 by African Union and Somali forces. Despite losing control of its land, the militant group has launched attacks on many high-profile areas in Somalia, including hotels, restaurants, and military checkpoints. The group has also targeted government buildings like the Somali parliament, supreme court offices, and even the nation's presidential palace. While Tuesday's attack likely targeted civilians, it took place at the Wadajir district headquarters, where Somali officials and their staff members were staying. A spokesperson for al-Shabaab claimed that "government and their staff" were among those killed.
According to research from the Africa Center for Strategic Studies, al-Shabaab has now surpassed Boko Haram as the deadliest terrorist group in Africa, killing more than 4,000 people in 2016 alone. The group has recently pledged to ramp up its attacks following a military offensive commissioned in April by Somalia's newly-elected government. On June 8, al-Shabaab carried out one of its deadliest attacks in years, killing around 70 people at a military base in Puntland. Just last week, the group detonated a car bomb outside a restaurant in Mogadishu, killing at least 31 more.
We want to hear what you think about this article. Submit a letter to the editor or write to letters@theatlantic.com.
Aria Bendix
is a frequent contributor to
The Atlantic
, and a former editorial fellow at
CityLab
. Her work has appeared on
Bustle
and
The Harvard Crimson
.