A Shooting in a New York City Hospital
A former doctor shot and killed one person and wounded six others at the Bronx-Lebanon Hospital Center.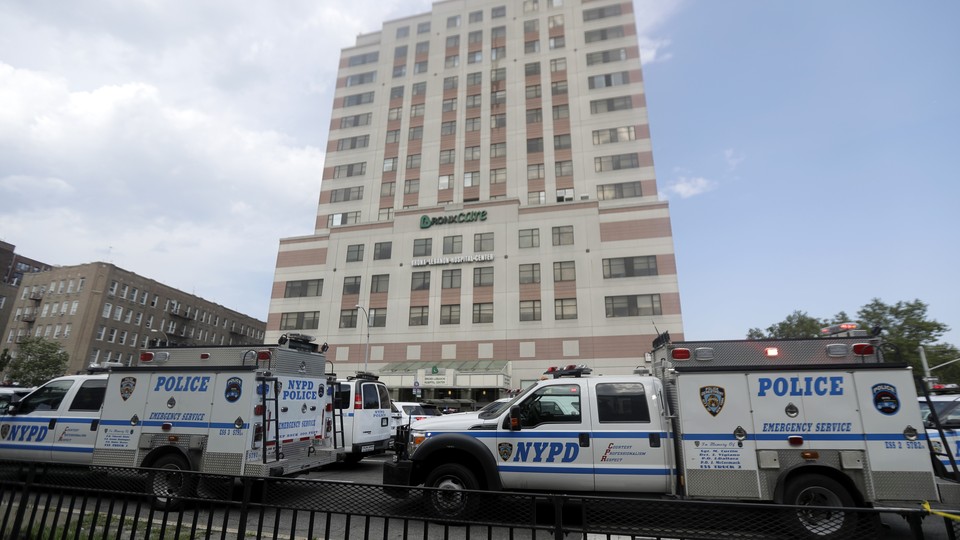 Updated on June 30 at 11:52 p.m. ET
A former doctor wearing a white lab coat pulled an assault rifle out at the Bronx-Lebanon Hospital Center on Friday, killing at least one person and injuring six others. New York police said the hospital's fire alarm activated after the suspect tried to set himself on fire. Authorities later found him on the floor, dead from a self-inflicted gunshot wound.
UPDATE: The shooter is deceased. Several others are injured regarding the shooting at Bronx Lebanon Hospital.

— NYPD NEWS (@NYPDnews) June 30, 2017
The hospital, which is located in New York City's Bronx borough, is a 120-year-old nonprofit health-care provider with one of the busiest emergency rooms in the city. After gunfire began at about 2:50 p.m. on the 16th and 17th floors, police cars and rescue workers swarmed the building. As police worked to secure the scene and determine if the shooter was still alive, rescue workers were not permitted inside.
Six people were injured in all, and many are in serious condition. One woman, later identified as a physician, was killed on the 17th floor. Two surgeons at the hospital, speaking on the condition of anonymity, told the Associated Press that the wounded victims were expected to survive, with the most severe case involving a gunshot wound to the liver. The New York Times reports that one of the wounded victims is a family services physician, another is a gastrointestinal specialist, and three are medical students.
Police originally described the suspect over the radio as thin, tall, and bald, wearing a blue shirt and white lab coat. He was later identified as 45-year-old Henry Bello, who is listed on the hospital's website as a family medicine doctor. According to the hospital's vice president, Bello was hired in 2014, but resigned about six months into the job after being accused of sexual harassment. In 2004, he pleaded guilty to unlawful imprisonment, a misdemeanor, for groping a 23-year-old woman. Five years later, he was arrested for unlawful surveillance after two women accused him of trying to look up their skirts with a mirror.
The New York Education Department said Bello had a permit to practice as an international medical graduate, which expired in July 2016. He also had an expired pharmacy technician license from his time working in California. A former colleague told the AP that Bello was a consistently problematic employee, often "very aggressive, talking loudly, threatening people."
At a press conference on Friday afternoon, Mayor Bill de Blasio said the city was "standing in solidarity with the families of all those who are fighting for their lives right now." The incident was "a workplace-related matter," he said, "not an act of terrorism." He added: "This was a horrible situation unfolding in a place that people associated with care and comfort, a situation that came out of nowhere."
This is a developing story, and we'll add more information as it becomes available.