A Deadly Car Bombing in Somalia
At least 17 people were killed and more than a dozen taken hostage in an attack claimed by al-Shabaab.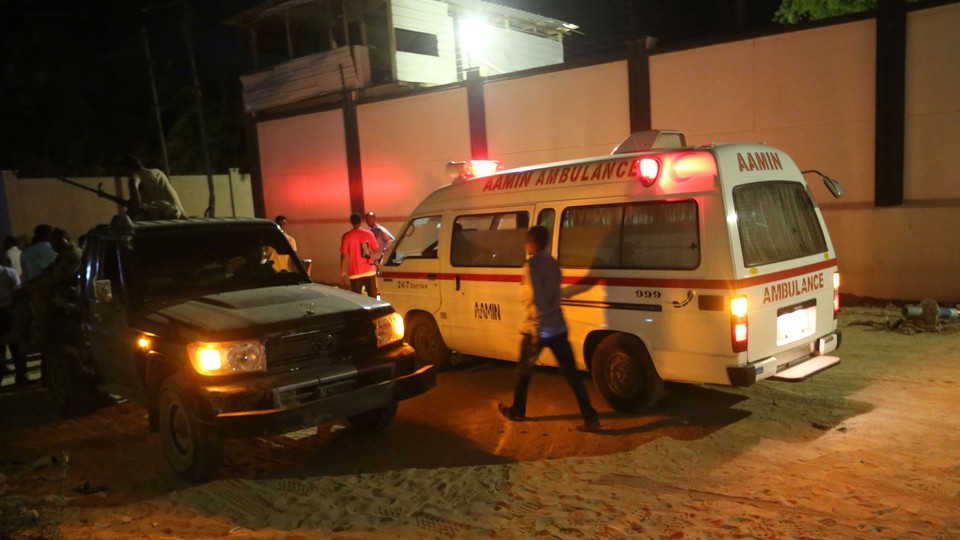 At least 17 people have been killed and 20 held hostage Wednesday in an attack claimed by Islamist militant group al-Shabaab on a popular restaurant in Mogadishu.
The attack began Wednesday evening local time after a car bomb was detonated outside Pizza House, a popular restaurant in the Somali capital. At least nine people were killed and several others wounded in the explosion. The Associated Press reports the blast was followed by sounds of gunfire after a group of gunmen posing as government security forces gathered those trying to flee inside the restaurant.
Major Ibrahim Hussein, a Mogadishu police officer, told Reuters that at least 20 people are being held hostage in the restaurant, noting that it is unclear "how many of those are dead or alive."
Such attacks by al-Shabaab are not uncommon. Since losing control of large swathes of land to African Union and Somali forces in 2011, the al-Qaeda affiliate has frequently launched attacks on public places like hotels and restaurants. The group conducted one of its largest attacks on Somali forces last week, killing approximately 70 people and injuring several others. President Trump authorized an airstrike on the group days later in an offensive the Pentagon said aimed to "systematically dismantle al-Shabaab, and achieve stability and security throughout the region." Approximately eight militants were killed.