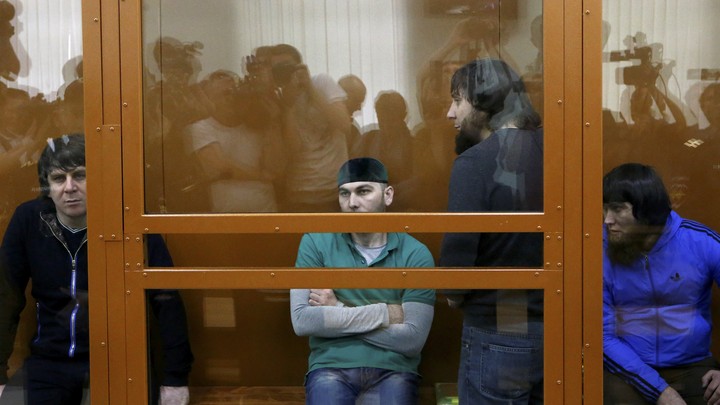 A Russian jury convicted five men Thursday in the murder of Russian opposition leader and prominent Kremlin critic Boris Nemtsov, concluding a trial Nemtsov's family has criticized as being insufficient.
Nemtsov, one of Russian President Vladimir Putin's most vocal critics, was killed while walking near the Kremlin in February 2015, just days before he was expected to help lead a major rally in Moscow opposing Russia's war with Ukraine. The 55-year-old's death shocked members of the country's political opposition, which turned out in the tens of thousands to mourn his death.
Zaur Dadayev, a native of Russia's North Caucasus region and a former Chechen soldier, was found guilty of shooting Nemtsov. Four other people, also Chechens, were convicted as accomplices: Anzor Gubashev, Shadid Gubashev, Khamzat Bakhayev, and Tamerlan Eskerkhanov. During the trial, the prosecution argued the men coordinated Nemtsov's murder in exchange for 15 million rubles ($250,000), though investigators say they still don't know who ordered the assassination. Dadayev originally confessed to the shooting, but later recanted, claiming he was tortured into giving the confession. All of the men have since maintained their innocence. Each faces between eight years to life in prison.
A sixth suspect, Beslan Shavanov, blew himself up during a standoff with authorities in Grozny, the Chechen capital. As the Moscow Times reports, prosecutors are still looking into Ruslan Mukhudinov, a Chechen officer, for allegedly ordering the assassination. He has been at large since November 2015.
In response to Nemtsov's murder, Putin vowed to make sure the perpetrators would "get the punishment they deserve," reportedly granting the country's intelligence agency unusually wide license to go after those responsible. But Nemtsov's family said this promise was not met. "It's the biggest crime of the century and yet they haven't identified the real organizers of those who ordered it," Vadim Prokhorov, the family's lawyer, told reporters after the verdict, adding that the government failed to investigate Ramzan Kadyrov, Chechnya's Kremlin-backed leader, who the family has long accused of being involved. Nemtsov's daughter, Zhanna Nemtsova, also criticized the outcome in a Facebook post, adding that "the case remains unsolved."
Dmitri Peskov, Putin's press secretary, said authorities would continue to investigate who ordered Nemtsov's murder, noting that "sometimes such processes take years."
We want to hear what you think about this article. Submit a letter to the editor or write to letters@theatlantic.com.