More Than 130 Dead in Bangladesh Landslide
Experts have criticized the government for failing to anticipate the dangers of the nation's annual monsoon season.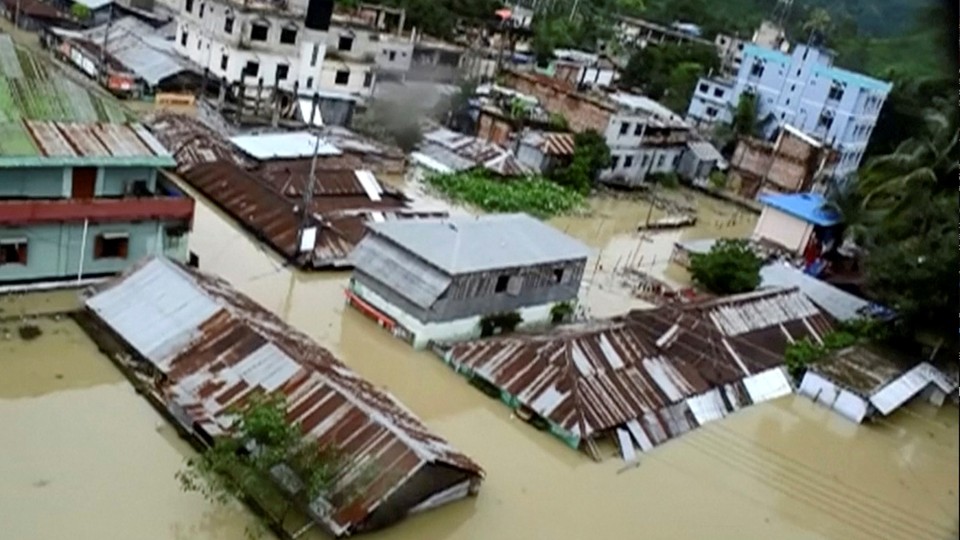 At least 134 people have been killed in a landslide caused by heavy rain in southeast Bangladesh, according to local officials. Five of the casualties were soldiers who were clearing a road in Rangamati, a hillside district near the Indian border. The district police chief, Sayed Tariqul Hasan, offered further detail, telling the AFP that landslides had buried homes in Rangamati while many residents were still sleeping. A spokesperson for the district's administration reported Tuesday that at least 60 people had been killed in Rangamati alone, though the death toll has since risen to 98. Another 30 casualties were reported in Chittagong, a major port city in southeastern Bangladesh. Nearby, the town of Bandarban witnessed the death of seven people, including three children, after their homes were buried in mud.
Bangladesh recently entered its monsoon season, which typically lasts from June to October, bringing storms, floods, and heavy rain that make southern hillside communities vulnerable to landslides. The non-profit development agency Plan International reports that, "by the end of monsoon season, almost one third of the country is underwater." In 2007, around 130 people were killed in Chittagong after monsoon rain spurred heavy mudslides. Experts have since blamed the disaster on civil engineering, or hill-cutting, which makes hillside homes highly unstable. Just a few weeks ago, southeastern Bangladesh was also hit by a tropical cyclone that killed at least eight people and destroyed thousands of buildings and homes in Chittagong, Cox's Bazar, and Rangamati. At the time, around half a million people were displaced by the storm.
Despite their familiarity with the dangers of monsoon season, local authorities have found it difficult to carry out rescue operations during bad weather. "We have not been able to reach many of the affected places," said Reaz Ahmed, the head of Bangladesh's Department of Disaster Management, in a statement to the AFP. "Once the rains are over, we'll get a full picture of the damage and get the recovery work in full swing." Rains have currently disrupted telecommunication links and shut off the nation's electricity, making it impossible to contact outlying communities. Ahmed added that the death toll is likely to rise once his team is able to connect with cut-off areas.
On Monday, India's prime minister, Narendra Modi, offered to provide assistance via Twitter:
India stands shoulder to shoulder with Bangladesh. We stand ready to support local search and rescue efforts if required.

— Narendra Modi (@narendramodi) June 13, 2017
Tuesday's crisis has sparked criticism among locals, who accuse their government of being ill-prepared to deal with natural disasters. "Experts think the government could do much more to prevent the loss of life by evacuating people living in the hilly areas during the monsoon season," Tanvir Chowdhury, a reporter for Al Jazeera, told the news site. On Tuesday, Bangladesh's prime minister, Sheikh Hasina, embarked on a bilateral visit to Sweden, the nation's key export partner, in an effort to "brighten" Bangladesh's reputation throughout Europe.