How Trump Revived the Story About What He Told the Russians
The president's assertion he didn't reveal Israel as the source of intelligence he shared with Russia gives his critics ammunition.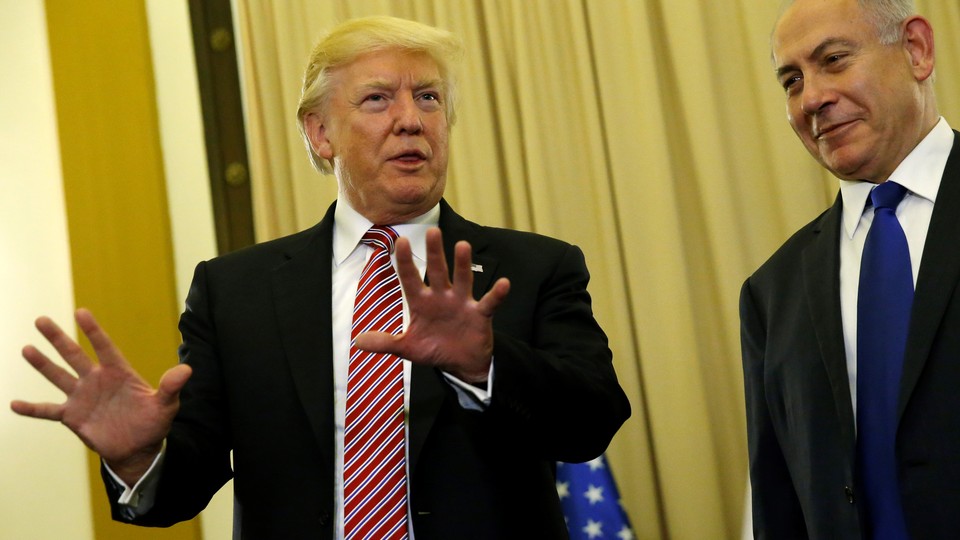 President Trump said Monday he "never mentioned the word or the name Israel" in his conversation with Russian officials at the White House during which he is said to have revealed sensitive intelligence from an ally about ISIS.
His remarks in Israel with Prime Minister Benjamin Netanyahu, during which he stopped the press pool from leaving the room in order to clarify the incident, are all but certain to revive the controversy Trump had left behind in Washington last week when he departed for his first foreign trip as president.
Consider this incident over? POTUS: "I never mentioned the word Israel" in convo w/ Lavrov. Bibi: "The intelligence cooperation is terrific" pic.twitter.com/9Gyku1XG0c

— Jacob Kornbluh (@jacobkornbluh) May 22, 2017
Last week, The Washington Post reported that Trump had shared with Sergey Lavrov, the Russian foreign minister, and Sergei Kislyak, Moscow's envoy to Washington, highly classified information about ISIS's operations from an unnamed intelligence-sharing ally. That country reportedly did not give permission to the U.S. to share the information with Russia, and U.S. officials had urged the Post not to name the country the information came from. The New York Times later identified that ally as Israel, and reported that details of the intelligence shared with the Russians could make its way back to its Iran, a Russian ally, and expose an Israeli intelligence asset.
Israeli officials have publicly not commented on the reports, but the country's intelligence officials were reportedly furious over the leak. Their political bosses downplayed the fallout. Netanyahu said Monday: "Intelligence cooperation [with the U.S.] is terrific. It's never been better."
White House officials tried to soften the impact of the revelations. H.R. McMaster, Trump's national-security adviser, rejected last week the idea the "president had a conversation that was inappropriate or that resulted in any kind of lapse in national security." And, he added Trump "was not even aware of where this information came from." But by stopping the reporters from leaving the room, Trump clarified—or inadvertently confirmed, depending on your point of view—what he told the Russians during the Oval Office meeting two weeks ago.
"I never mentioned the word or the name Israel. Never mentioned during
that conversation," he said. "They're all saying I did, so you have another story wrong. Never mentioned the word Israel."
But the news reports never claimed Trump divulged the source of the information—only that he had divulged secret information. To be clear, the president is allowed to share any information he deems fit, but Trump's remarks about Israel Monday are only likely to raise fresh questions about the source of the intelligence and the future of Israel-U.S. intelligence sharing.