What Hamas's New Document Does and Doesn't Say
The Palestinian militant group, which governs Gaza, said it would support a Palestinian state based on 1967 borders.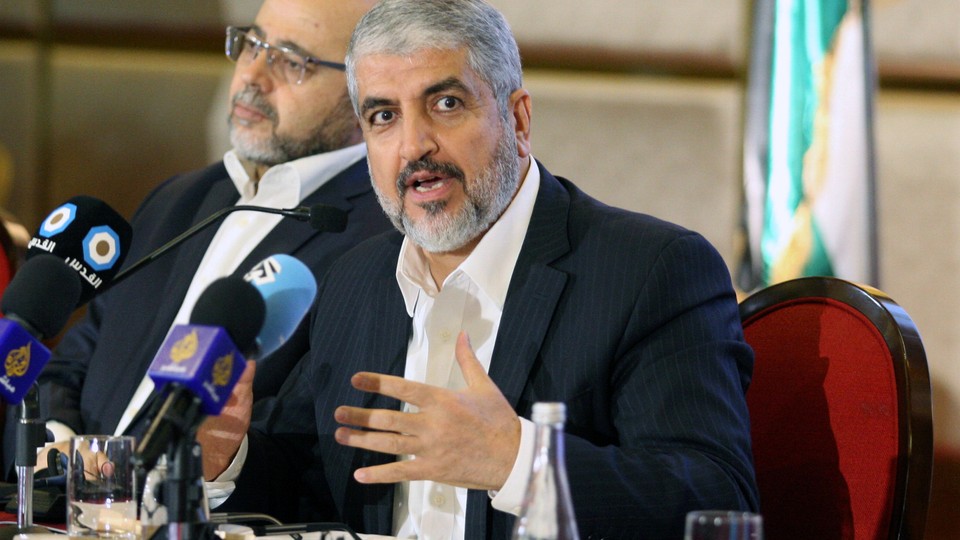 Hamas unveiled Monday a new political document supporting the establishment of a Palestinian state based on 1967 lines, marking a rhetorical shift just days ahead of Palestinian Authority President Mahmoud Abbas's visit to Washington.
"Hamas advocates the liberation of all of Palestine but is ready to support the state on 1967 borders without recognizing Israel or ceding any rights," Khaled Meshaal, the group's leader, said at the unveiling of the 42-point document Monday in Doha, the Qatari capital, where he is based.
Though the two-state policy has been the bedrock of the Israeli-Palestinian peace process for more than two decades, Hamas, which governs the Gaza Strip and which the U.S. and Israel regard as a terrorist organization, has never formally accepted the agreement, calling instead for Israel's destruction. While the new document reaffirms the group's belief that "no part of the land of Palestine shall be compromised or conceded," it goes on to characterize a Palestinian state based on the 1967 armistice lines as "a formula of national consensus."
The document's release comes two days ahead of a White House meeting between President Trump and Abbas, the Palestinian Authority leader, during which the two leaders are expected to discuss reviving the Israeli-Palestinian peace process. It also comes amid mounting political and financial pressure on Hamas by the Palestinian Authority, which has cut the coastal enclave's electricity access and slashed the salaries of Palestinian Authority employees there, and by Egyptian President Abdel Fattah al-Sisi, who has overseen the tightening of restrictions on the Rafah border crossing between Gaza and Egypt.
Grant Rumley, a research fellow at the Foundation for Defense of Democracies, told me the new document's omission of the Muslim Brotherhood, from which Hamas is considered an offshoot, signals an effort by the group to improve its ties with Sisi, who has conducted a bloody crackdown on the organization.
"One of the more important things in this document is what's not in it, and that's any mention of the Muslim Brotherhood," Rumley said. "Hamas released this now out of realization that Sisi is here to stay and that his war on the [Muslim] Brothers has hit them hard—not only at Rafah, but in the tunnels and in access to Egypt and the ability to get out of the Gaza Strip. It's really hamstrung the organization."
Rumley said the move could also be seen as an attempt to undercut support for Fatah, the ruling party of the Palestinian Authority from which Hamas broke ranks after it assumed control of the Strip in 2007.
The new document was dismissed by Israeli and Palestinian Authority leaders. Israeli Prime Minister Benjamin Netanyahu called it a "smoke screen," with David Keyes, a Netanyahu spokesman, adding: "Hamas is attempting to fool the world but it will not succeed."
Osama al-Qawasme, a Fatah spokesman, called on Hamas to apologize to the party "after 30 years of accusing us of treason for that policy."