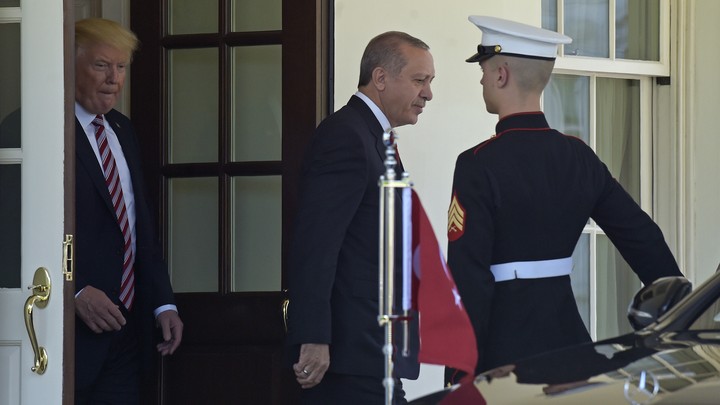 Video footage released Thursday sheds new light on Tuesday's violent clash between Turkish President Recep Tayyip Erdogan's security detail and protesters in Washington, D.C. The video, shot by Voice of America, takes place moments before the brawl, which injured 12 people, including a police officer, outside the Turkish ambassador's residence. In the beginning of the footage, one of Erdogan's bodyguards is seen speaking to the president, who remains inside his black Mercedes Benz. About 13 seconds into the footage, the bodyguard taps on the shoulder of another member of Erdogan's security detail just moments before the fighting commences. At the 1:13 mark, Erdogan can be seen stepping out of the vehicle. After briefly watching the altercation, he then enters the building.
While the video's implications are still unclear, many reporters have drawn their own conclusions on social media:
It seems Erdogan (inside the car) ordered his security detail to beat up protesters in Washington D.C. (v @voanews) pic.twitter.com/8dIli00xNV

— Mahir Zeynalov (@MahirZeynalov) May 18, 2017
The violence began Tuesday in response to anti-Erdogan protests organized by Kurdish Americans, the Armenian National Committee of America, and supporters of the Peoples's Democratic Party, a pro-Kurdish political party in Turkey. Hours earlier, Erdogan met with President Trump at the White House to discuss the arming of Kurdish rebels in Syria, among other issues. Witnesses say the attack broke out suddenly when Erdogan's guards and supporters began charging at protesters. In Tuesday's video, one protester can be seen being repeatedly kicked in the face. Lucy Usoyan, an Armenian-American activist, told VOA that protestors were chanting "Long live U.S.A., long live Kurdistan and Armenia" just before they were attacked. "I saw blood everywhere," Usoyan told the news outlet. "For a second, I thought that I [was] not in the capital of the U.S., but in Turkey, being beaten by Erdogan supporters."
At the time, a local NBC affiliate reported that Erdogan was inside the Turkish ambassador's residence when the violence occurred. But Thursday's video footage shows him getting out of the Mercedes as the brawl continues in the background. Even if it becomes clear that anyone associated with Erdogan was responsible for the altercation, it's unlikely they will face charges. While two members of Erdogan's security detail were briefly detained during the brawl, a senior U.S. State Department official told CNN that "customary international law affords heads of state and members of their entourage with inviolability from arrest and detention."
Despite this diplomatic immunity, many U.S. officials have been quick to criticize Erdogan's guards. The day after the altercation, Peter Newsham, the Metropolitan Police Department's chief, referred to the incident as "a brutal attack on peaceful protesters." D.C. Mayor Muriel Bowser issued a similar statement on Wednesday, saying, "What we saw yesterday—a violent attack on a peaceful demonstration—is an affront to D.C. values and our rights as Americans." The Turkish embassy offered a different interpretation, claiming the protestors were "aggressively provoking Turkish-American citizens who had peacefully assembled to greet the president … [and] responded in self-defense."
Altercations in Washington, D.C. are not a first for Erdogan. A little over a year ago, members of his security detail were accused of manhandling and cursing at reporters outside an event at the Brookings Institution, a D.C.-based think tank. At the time, Erdogan was delivering a speech in which he referred to the protests happening outside. "They are shouting," he said, "but they don't know what's going on back in Turkey."
We want to hear what you think about this article. Submit a letter to the editor or write to letters@theatlantic.com.
Aria Bendix
is a frequent contributor to
The Atlantic
, and a former editorial fellow at
CityLab
. Her work has appeared on
Bustle
and
The Harvard Crimson
.