U.S. Conducts Successful Missile Defense Test
The simulated attack is likely a response to North Korea's increased missile testing.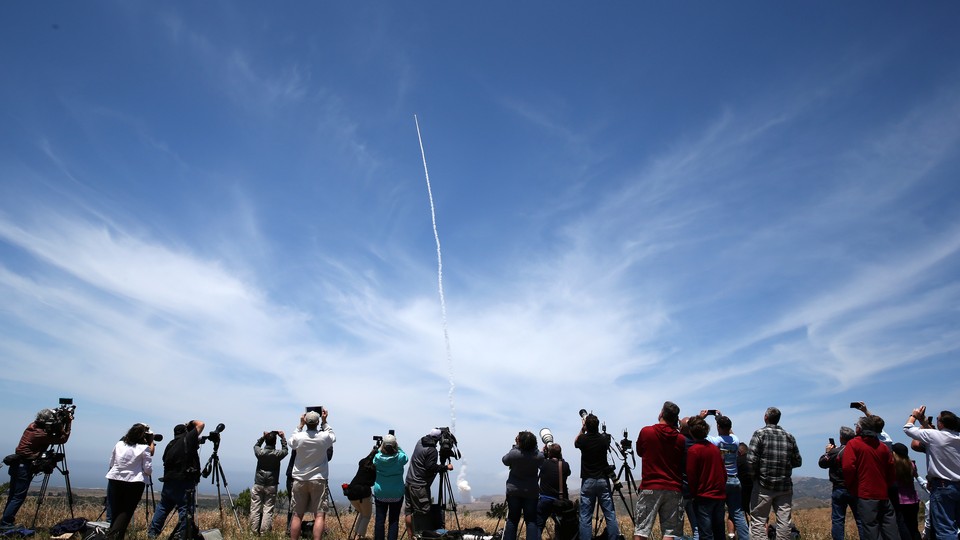 Following a series of North Korean missile tests, the latest of which occurred on Sunday, the U.S. military has conducted a missile defense test aimed to protect the nation from a targeted attack. The test, which took place Tuesday at the Vandenberg Air Force Base in California, was deemed successful by U.S. officials after an upgraded long-range interceptor missile directly collided with its target—a mock intercontinental ballistic missile (ICBM). North Korea is widely believed to be developing an ICBM capable of reaching the U.S. mainland. Should the nation launch an attack that threatens the U.S., South Korea, or Japan, U.S. policy calls for the missile to be shot down.
In a statement, the director of the U.S. Missile Defense Agency, Jim Syring, called the United States's Ground-based Midcourse Defense (GMD) system "vitally important to the defense of our homeland." Tuesday's test "demonstrates that we have a capable, credible deterrent against a very real threat," he said. It also marks the nation's first live-fire test against a simulated ICBM. Before Tuesday, the most recent test was conducted in 2014. In the past, intercepting an ICBM has proven incredibly difficult—akin to hitting one bullet with another at an exceptional distance, officials say. Since 1999, the GMD system has hit its target in just nine out of 17 tests, with many tests suffering from mechanical difficulties.
Even after the latest simulation, experts continue to doubt the progress of the GMD system. On Tuesday, Philip Coyle, a senior fellow at the Center for Arms Control and Non-Proliferation, told CNN the test "marks two successes in a row, which is significant," but added that only two of the last five attempts were successful. "In school, 40 percent isn't a passing grade," Coyle told the news outlet. "Based on its testing record, we cannot rely upon this missile defense program to protect the United States from a North Korean long-range missile."
In 2016, a report from the Pentagon arrived at a similar conclusion. "GMD has demonstrated a limited capability to defend the U.S. homeland from small numbers of simple intermediate-range or intercontinental ballistic missile threats launched from North Korea or Iran," the report said. Since 2002, the United States's missile defense system has cost the nation an estimated $40 billion. Under the Trump administration's budget proposal for 2018, the Pentagon has requested another $7.9 billion for the Missile Defense Agency, including $1.5 billion for the GMD system.
According to U.S. officials, the nation is developing additional methods to thwart a missile attack, including cybersecurity assessments. On Tuesday, Captain Jeff Davis, a Pentagon spokesman, said the latest test is only "one element of a broader missile defense strategy that we can use to employ against potential threats." The nation's THAAD anti-missile system is also designed to counter short, medium, and intermediate range missile threats. Like Tuesday's missile defense test, the program aims to intercept North Korean missiles mid-flight.
In March, the THAAD system was deployed in South Korea shortly before the nation's former president, Park Geun Hye, was removed from office. South Korea's new president, Moon Jae In, is one of many critics who say Park should have sought parliamentary approval before authorizing the program. On Tuesday, the same day as the U.S. defense test, Moon ordered an investigation into South Korea's THAAD system, placing the project on shaky ground.
While Moon initially believed that only two rocket launchers were deployed in South Korea, he was reportedly "shocked" to learn Tuesday that four more launchers were deployed without his knowledge. As South Korea's new president, Moon has promised to uphold a more diplomatic stance toward North Korea, calling for increased dialogue between the two nations. North Korea, meanwhile, has pointed to the United States's THAAD system as evidence that "the U.S. is harasser and destroyer of peace, indifferent to regional stability."