United Airlines Testifies Before an Angry Congress
The airline received a harsh scolding—and threats of future legislation—during a four-hour hearing.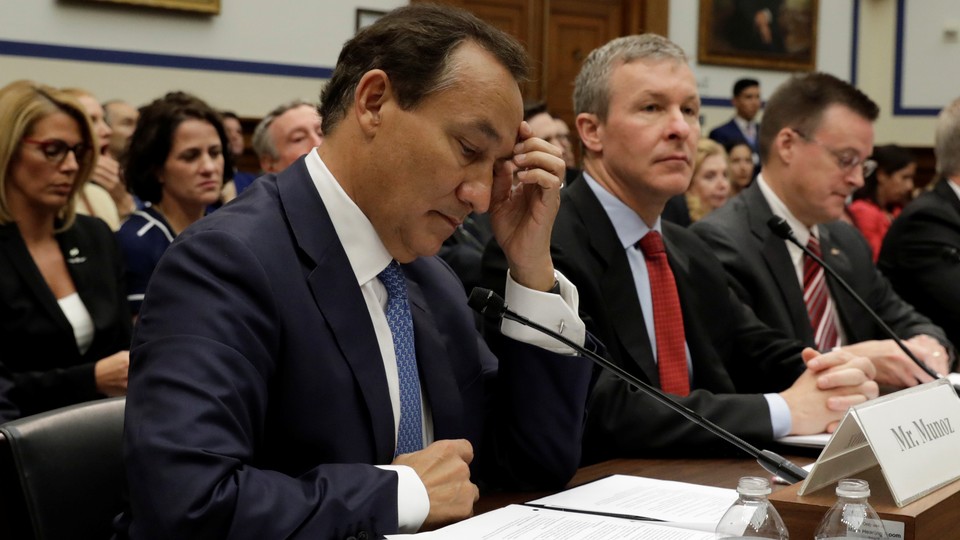 Following the release of a viral video in which a passenger was violently removed from an overbooked United Airlines flight at Chicago's O'Hare International Airport, United was called to testify before the U.S. House of Representatives Tuesday to address their poor customer service. Joining United representatives were top executives from American Airlines, Southwest Airlines, and Alaska Airlines. Delta Airlines declined to testify, stating they were in talks with individual members of Congress about improving their customer service.
The hearing, which lasted four hours, took place before the House Transportation and Infrastructure Committee, led by chairman Bill Shuster. As anticipated, the recent scandal onboard United Express Flight 3411 was a main focus of discussion. "This is a turning point for United," the airline's CEO, Oscar Munoz, said of the incident. "For the last three weeks, I have spent every day thinking about how we got here."
Munoz also took the opportunity to admit personal responsibility for what happened onboard, saying, "In that moment, for our customers and our company, we failed, and so as CEO, at the end of the day, that is on me." United has announced that Munoz will no longer assume the role of chairman in 2018, as was planned. Last Thursday, the man at the heart of the United scandal—Kentucky doctor David Dao— reached a settlement with the airline for an undisclosed sum.
In the wake of the incident, United instituted a number of policy changes, including restricting the use of law enforcement "to security issues only." In addition, the airline will now offer up to $10,000 to passengers who volunteer their seats on an overbooked flight. United will also make an effort to reduce the total number of overbooked flights, though it is not yet willing to eliminate its overbooking policy. In the meantime, its competitor, Southwest Airlines, has vowed to stop overbooking passengers altogether. Alaska Airlines is also considering changes to its overbooking policy, while American Airlines has said it will continue the practice.
Despite efforts to make amends for their customer service, United and its fellow airlines were not safe from scrutiny at Tuesday's hearing. Chairman Bill Shuster opened the conversation with a threat to pursue legal action. "If airlines don't get their act together, we are going to act," Shuster said. "Seize this opportunity because if you don't, we're going to come, and you're not going to like it." At one point, California U.S. Representative Duncan Hunter asked Munoz why he hated the American people, before retracting the question.
While no plans for legal action or increased oversight were made explicit at the hearing, the message was clear: Legislation would be forthcoming if airline companies did not start offering a better experience to their customers. Committee members cited complex booking systems, hidden fees, long wait times, and sudden flight delays among the list of customer grievances."I think the sense in the room was one of an admonition to get your collective stuff together," Munoz told reporters after the hearing.
While the House Transportation and Infrastructure Committee has made its opinion known, President Trump has yet to weigh in on the issue other than to call the United incident "horrible." When asked Monday whether Trump would consider new regulations for airline companies, White House spokesman Sean Spicer said the president planned to remain silent for the time being. "I'll leave it up to Congress to decide whether it's appropriate to address this legislatively," Spicer told reporters. "Once there was a piece of legislation, then we could have an opportunity to weigh in."