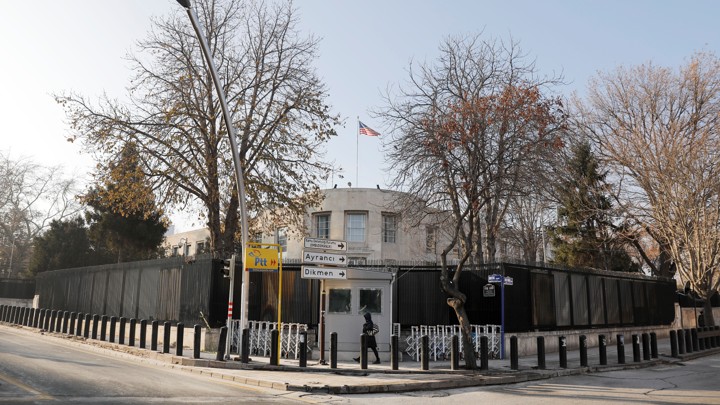 Turkey summoned the U.S. ambassador to Ankara on Monday to lodge a formal complaint with the U.S. for how it handled a brawl outside the Turkish Embassy in Washington, D.C., last week. Protesters who were demonstrating against the visit of President Recep Tayyip Erdogan were beaten by members of his security detail, though it's still unclear how the fight started. Nearly a dozen people were injured, and the incident has threatened an already tense diplomatic relationship.
Turkey's complaint comes days after the U.S. summoned the country's ambassador to Washington, and after several prominent U.S. lawmakers, including Arizona Senator John McCain, called on the U.S. to kick out the Turkish envoy. "We should throw the Turkish ambassador out of the country, we should identify those people that performed these unlawful acts of beating people up and they should be charged," McCain said.
Summoning the U.S. ambassador John Bass is a way for Turkey to lodge a formal complaint, but it also threatens to make an already-tense situation worse. Last week, Erdogan visited Trump with little official controversy, despite Trump's decision earlier this month to arm Syrian Kurds, whom the Turkish government sees as terrorists. But protesters had gathered outside the embassy during Erdogan's visit to denounce his growing authoritarianism. The president has cracked down on dissenters since the failed coup to oust him last year, and reports say about 50,000 have been arrested.
The protest was peaceful until Erdogan returned from his visit to the White House. Then, several Turkish guards in suits rush the crowd and kicked, punched, and choked several demonstrators. The fight was recorded by journalists, and some videos show Erdogan watching as his guards beat the protesters. Local police struggled to control the fight, and arrested two protesters, as well as two Turkish security guards. The two guards were briefly detained, but they had diplomatic immunity, and were released, according to The New York Times. They later left the country. After the fight, D.C. Police Chief Peter Newsham released a statement saying, "We intend to assure that there is accountability for anyone involved in this assault. Yesterday we witnessed what appeared to be a brutal attack on peaceful protests."
Turkey, however, has its own version of events. In its summons, the Turkish Foreign Ministry criticized "the inability of U.S. authorities to take sufficient precautions at every stage of the official program." Turkey also claimed the protesters were affiliated with the Kurdistan Workers Party (PKK), which Ankara views as a terrorist organization. The state-run Anadolu news agency also released an edited video that framed the fight as one between protesters and pro-government counter-protesters. It blames protesters for starting the fight by throwing water bottles at security guards.
A statement from the Turkish embassy in Washington called for a full investigation into the violence.
We want to hear what you think about this article. Submit a letter to the editor or write to letters@theatlantic.com.
J. Weston Phippen
is a senior associate editor at
The Atlantic
, where he covers news.