Trump's Visit to Bethlehem
The U.S. president told Palestinian leader Mahmoud Abbas he will "do everything" to achieve Middle East peace.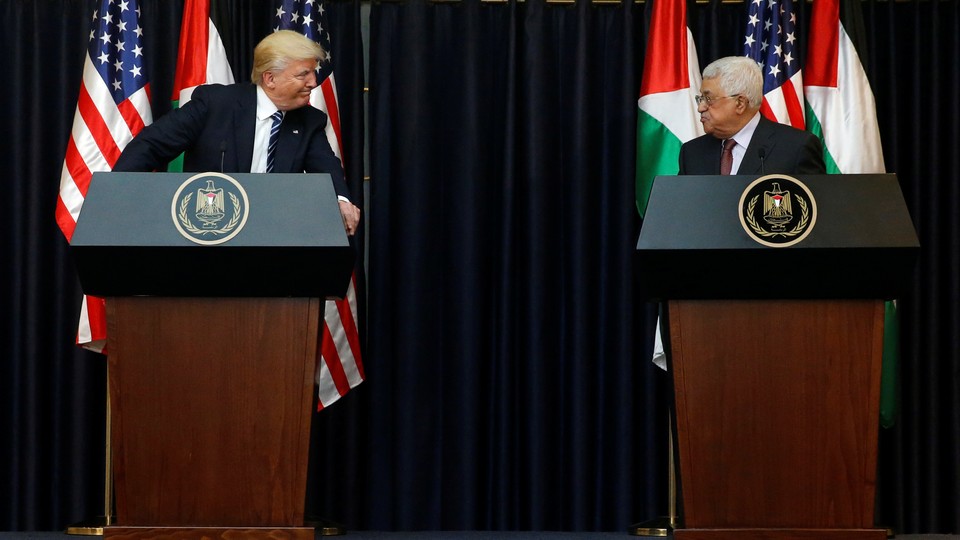 The third day of President Trump's first overseas visit took him to the West Bank city of Bethlehem, where he pledged "to do everything" to achieve peace between Israelis and Palestinians.
"Peace is a choice we must make each day, and the United States is here to help make that dream possible for young Jewish, Christians and Muslim children all across the region," Trump said Tuesday during a press conference at Abbas's presidential palace, adding that "in this spirit of hope, we came to Bethlehem, asking God for more peaceful, safe, and far more tolerant world for all of us."
Trump praised Abbas for attending his summit Sunday with leaders of more than 50 Muslim countries in Riyadh and for committing "to taking firm but necessary steps to fight terrorism and confront its hateful ideology." Both leaders offered their condolences to the victims of Monday's terrorist attack in Manchester—for which the Islamic State claimed responsibility— that killed at least 22 people and injured several dozen others.
"Peace can never take root in an environment where violence is tolerated, funded and even rewarded," Trump said in apparent reference to the Palestinian Authority's payments to the families of Palestinian prisoners and those killed in the conflict with Israel, which Israel has long condemned.
Abbas reaffirmed his commitment to work with the U.S. and the Israelis so that "the children of Palestine and Israel can enjoy a safe, stable, and prosperous future," adding that "Palestinian people's attainment of their freedom and independence is the key."
In addition to protesting Israel's continued occupation and settlement expansion within the West Bank, Abbas also raised the issue of the Palestinian prisoner hunger strike, in which approximately 1,000 Palestinian prisoners, including popular Palestinian figure and Abbas rival Marwan Barghouti, have called for improved conditions in Israeli prisons.
The remarks largely echoed what Trump and Abbas said during their first meeting earlier this month in Washington, in which Trump expressed his desire to be "a mediator or an arbitrator or a facilitator" between both peoples. In both meetings, Abbas was the first to bring up his desire to pursue a two-state solution, which has been a longtime bedrock of U.S. policy in the region; Trump, however, did not.