'Drive Them Out': Trump Addresses Muslim Leaders on Terrorism
The president's tone was drastically different than during his campaign.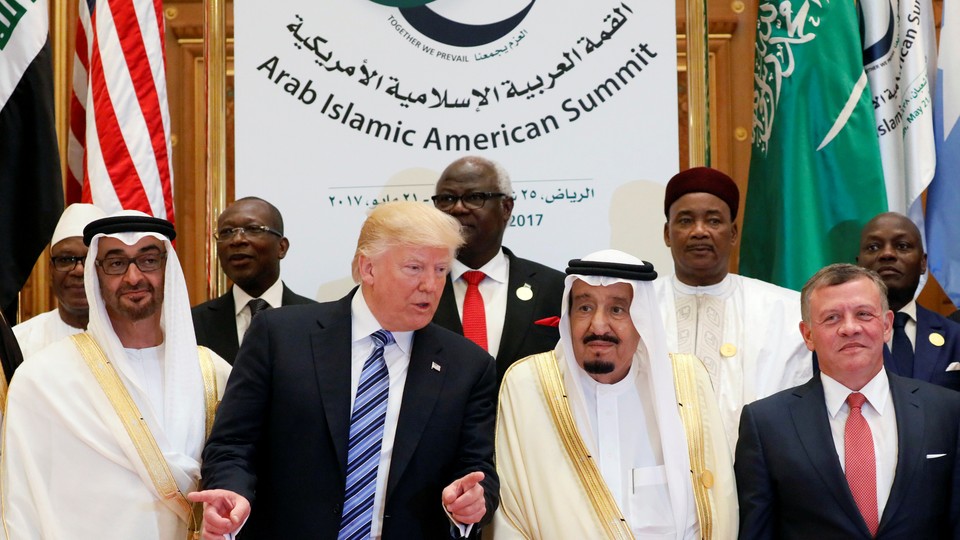 President Trump delivered a speech in Riyadh, Saudi Arabia, on Sunday that asked leaders of the Muslim world to take more responsibility in the fight against terrorism, and that framed the fight not as one between people of "different faiths, different sects, or different civilizations," but as a battle between "good and evil."
The speech, made to leaders of more than 50 Muslim countries, was the centerpiece of his trip to Saudi Arabia, Trump's first outside the country since he became president. Saudi Arabia is the birthplace of the religion, home to two of its most holiest sites, and Trump's message and tone of was a stark difference from that of his campaign. (My colleagues Uri Friedman and Emma Green have also annotated extensive sections of the speech.)
During the election, Trump often made Islamophobic remarks and called for a blanket ban on all Muslims entering the U.S. "I think Islam hates us," the president once said. His speech Sunday was markedly different, and Trump called for increased economic ties between the U.S. and the muslim world, and praised the Middle East for its beauty and history. At the opening of his talk, Trump reiterated a message from his inauguration speech that he did not intend for America to dictate how other people live.
"America is a sovereign nation and our first priority is always the safety and security of our citizens. We are not here to lecture—we are not here to tell other people how to live, what to do, who to be, or how to worship. Instead, we are here to offer partnership – based on shared interests and values – to pursue a better future for us all."
In the days prior to the speech there was speculation about whether Trump would use the words "radical Islam." He had criticized former President Barack Obama, as well as many Democrats, for not using the phrase, which some worry casts blight upon the entire religion. Trump did not use those words, and instead replaced them with the softer term of,"Islamist extremism."
"That means honestly confronting the crisis of Islamist extremism and the Islamist terror groups it inspires," Trump said. "And it means standing together against the murder of innocent Muslims, the oppression of women, the persecution of Jews and the slaughter of Christians."
Before the speech, Trump and leaders of six Gulf states signed an agreement to crack down on terrorism financing, including the creation of a "Terrorist Financing Targeting Center" to be housed in Riyadh. Several times during the speech, Trump emphasized that that while the U.S. would continue to offer support, the Middle East needed to take a more active role in fighting extremism. "Drive them out. Drive them out of your places of worship," Trump said, "drive them out of your holy land. Drive them out of this earth."
Leaders at the meeting seemed optimistic that Trump would bring change and opportunity. Some have previously complained that former-President Obama offered little decisive action and moralized too much. Trump, instead, has made it clear that he will not criticize Middle East countries for their humanitarian abuses. Earlier in the trip, Trump met with the king of Bahrain, Hamad bin Isa al-Khalifa, whose country recently approved a constitutional change that allows its military court to try civilians. The move was an effort to contain growing unrest, and human rights organizations have greatly objected to the decision. The Trump administration has stayed quiet, and even signaled it would lift humanitarian restrictions on Bahrain that curtailed the sale of F-16 fighter jets and other military arms to the country.
Talking earlier with Egyptian President Abdel Fatah al-Sissi, the leader praised Trump by saying through a translator that "You are a unique personality that is capable of doing the impossible."
"I agree!" Trump said, then he went on to compliment Sissi on his fashion, saying, "Love your shoes. Boy, those shoes. Man."
President Trump has accelerated the fight against ISIS in Iraq and Syria recently. His speech, in its change of tone from the campaign, seem an acknowledgment that he will need to work more closely with Middle East if he hopes to be effective.
"America is prepared to stand with you in pursuit of shared interests and common security," Trump said in his speech. "But the nations of the Middle East cannot wait for American power to crush this enemy for them. The nations of the Middle East will have to decide what kind of future they want for themselves, for their countries, and for their children."