Trump's 10-Point Trade Plan for China
The agreement eases market access for U.S. beef producers, financial service providers, and natural gas exporters.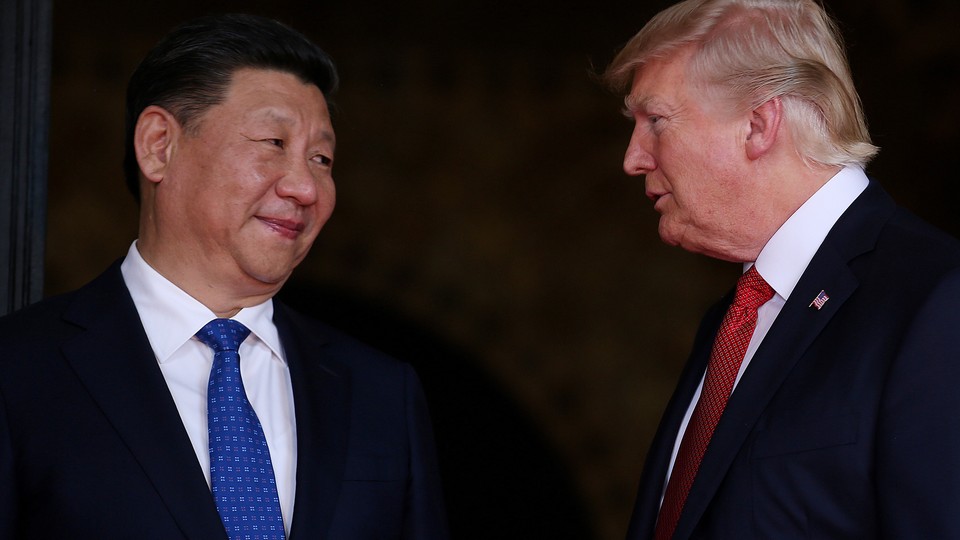 The Trump administration announced Thursday a new trade agreement with China that will allow for increased U.S. beef and natural gas exports to its top trading partner.
Under the 10-point deal, China will lift its ban on U.S. beef imports (which was put in place following the outbreak of bovine spongiform encephalopathy, or mad cow disease, in 2003). American liquified natural gas exporters and foreign-owned financial service providers will also have increased access to the Chinese economy under the deal. In return, Washington has agreed to issue a proposed rule to allow Chinese cooked poultry exports into the country.
The deal, which the White House said marks the initial results of a 100-day action plan between the two countries, follows a meeting between President Trump and Chinese President Xi Jinping last month at Mar-a-Lago, Trump's estate in Florida. While Commerce Secretary Wilbur Ross hailed the agreement as a "herculean accomplishment" that "will help us to bring down the deficit for sure," the immediate impact the deal will have on the country's estimated $347 billion trade deficit with Beijing is unclear.
Though Trump previously pledged to take a tougher stance on trade relations with China, which he had labeled a currency manipulator on the campaign trail, he has since softened his position. In an interview last month with The Wall Street Journal, the president suggested he would offer Beijing a better trade deal if they helped apply pressure on North Korea, adding: "Now, I did say—but you want to make a great deal? Solve the problem in North Korea. That's worth having deficits. And that's worth having not as good a trade deal as I would normally be able to make."
Trump attempted to frame the agreement as a major breakthrough in a week marred by controversy over his decision to fire FBI Director James Comey—a dismissal critics allege was fueled by the ongoing FBI investigation into Russian interference in the 2016 presidential election.
China just agreed that the U.S. will be allowed to sell beef, and other major products, into China once again. This is REAL news!

— Donald J. Trump (@realDonaldTrump) May 12, 2017