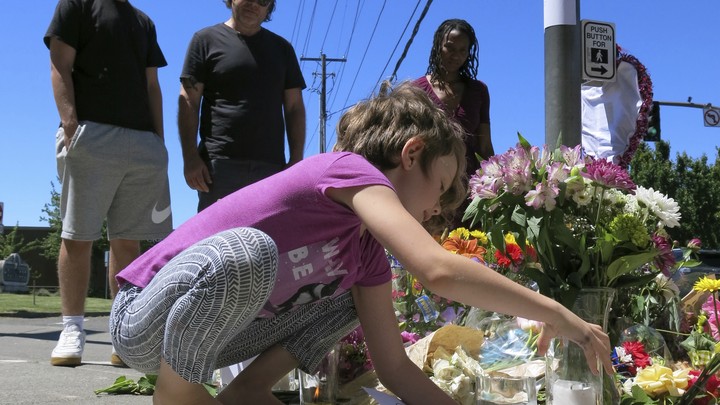 President Trump on Monday offered his condolences in a tweet for the victims of a stabbing in Portland, Oregon, who were killed by a man screaming anti-Muslim insults at two women, one of whom wore a hijab. The tweet came from Trump's @POTUS account three days after the attack, and said the "victims were standing up to hate and intolerance" and condemned the stabbings as "unacceptable."
Two men died in the attack. Rick Best, 53, was an Army veteran, and Myrddin Namkai Meche, 23, recently graduated from Reed College. A third victim, Micah David-Cole Fletcher, 21, is recovering in the hospital from a cut to the neck, which his mother told local media had missed his jugular vein by a millimeter. In a statement Saturday, Portland's mayor, Ted Wheeler, called the victims hereoes, saying they were "injured for doing the right thing, standing up for people they didn't know against hatred. Their actions were brave and selfless, and should serve as an example and inspiration to us all."
The violent attacks in Portland on Friday are unacceptable. The victims were standing up to hate and intolerance. Our prayers are w/ them.

— President Trump (@POTUS) May 29, 2017
Police have arrested 35-year-old Jeremy Christian, who was described by local media as a known white supremacist in the area, and who posted racist rants on his Facebook page just before the attack. Also, in a past video at a rally in Oregon, Christian is seen wearing an American flag, giving the Nazi salute, and yelling, "Die Muslims!."
Police said Christian and the victims were riding an eastbound commuter train Friday afternoon, and that Christian started yelling racist comments toward both women. A mother of one of the women, Dyjuana Hudson, later told The Oregonian that "he was saying that Muslims should die. That they've been killing Christians for years." The three men then tried to intervene and police say Christian stabbed them.
Best was pronounced dead on the scene. He had retired from the Army in 2012 after 23 years of service, including two tours in Iraq and Afghanistan. He had three teenage sons, and a daughter. Namkai Meche died at the hospital. His family released a statement saying, "in honor of his memory, we use this tragedy as an opportunity for reflection and change. We choose love." Fletcher, who's recovering in the hospital, is a student at Portland State University, and in 2013 he won a poetry contest for a poem that condemned prejudice toward Muslims after the September 11th terrorist attacks in New York.
Only one of the women has made a public statement. Destinee Mangum, 16, talked with a local Fox affiliate and said she and her friend, the woman in the hijab, were grateful the men stood up to defend her.  "I just want to say thank you to the people who put their life on the line for me, because they didn't even know me and they lost their lives because of me and my friend and the way we look. And I just want to say thank you to them and their family and that I appreciate them because without them, we probably would be dead right now."
Destinee Mangum, one of the targets of hate speech on a MAX train, thanks strangers for saving her life. pic.twitter.com/sefmOAyIVt

— FOX 12 Oregon KPTV (@fox12oregon) May 28, 2017
Trump tweeted about two dozen times from his personal account before acknowledging the victims in Friday's attack. He was criticized by the Council on American-Islamic Relations for not doing so sooner, and they urged him to speak out "against the rising tide of Islamophobia and other forms of bigotry," which they attributed to the the rhetoric of his campaign and some of his policies as president.
We want to hear what you think about this article. Submit a letter to the editor or write to letters@theatlantic.com.