Trump Would Meet Kim Jong Un 'Under Right Circumstances'
The president's remarks to Bloomberg News raise questions about his North Korea policy.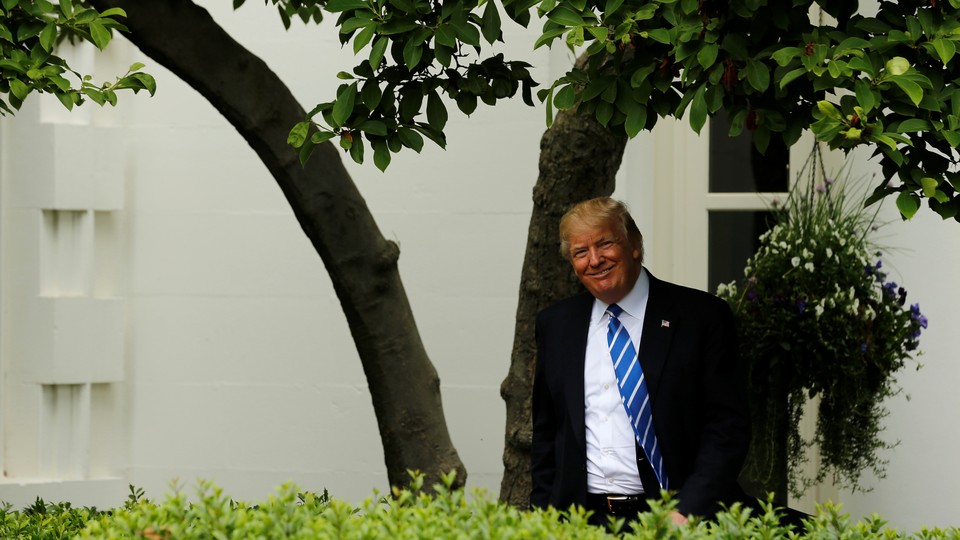 President Trump says he will meet North Korean leader Kim Jong Un "under the right circumstances," raising once more the question of what his administration's North Korea policy is.
"If it would be appropriate for me to meet with him, I would absolutely, I would be honored to do it," Trump told Bloomberg News on Monday. "If it's under the, again, under the right circumstances. But I would do that."
The president's remarks about Kim over the past few days also suggests he is sympathetic to the North Korean leader's assumption of power in 2012 after the death of his father, Kim Jong Il.
"He's 27 years old. His father dies, took over a regime. So say what you want but that is not easy, especially at that age," Trump told Reuters last week. "I'm not giving him credit or not giving him credit, I'm just saying that's a very hard thing to do. As to whether or not he's rational, I have no opinion on it. I hope he's rational."
Trump told Bloomberg Monday: "Most political people would never say that, but I'm telling you under the right circumstances I would meet with him. We have breaking news."
His remarks echo those of Barack Obama, who as presidential candidate was criticized for saying he would meet without preconditions the leaders of North Korea and other nations at odds with the U.S. At the time, Obama offered a rationale for his apparent conciliatory approach:  "And the reason is this, that the notion that somehow not talking to countries is punishment to them—which has been the guiding diplomatic principle of this [the Bush] administration—is ridiculous." Ultimately, Obama never did meet with North Korea's leadership, which tested a long-range missile soon after he took office, all but ending U.S. efforts at direct diplomacy with Pyongyang. (Three round of direct talks in 2012 failed.) The Obama administration then adopted an approach it described as "strategic patience" with North Korea. It's that policy that both U.S. Secretary of State Rex Tillerson and Vice President Mike Pence have declared dead in recent weeks—after repeated North Korean missile tests—only to send conflicting messages about what exactly U.S. policy is toward the North.
Last week Trump said he expected a "major, major conflict with North Korea," and Tillerson said the U.S. would consider talks with North Korea only after it takes "concrete steps to reduce the threat that its illegal weapons programs pose to the United States and its allies." At the time, my colleague David Graham wrote of U.S. policy toward the North:
The many shifts are jarring—it is hard to discern what the U.S. actually thinks and intends to do in North Korea, when the nation's top diplomat keeps contradicting himself, the president has his own line, and even matters as simple as naval deployments can't be taken at face value. One consistent thread has been the U.S. insistence that all options are on the table, but even that is not entirely true, since the U.S. says that regime change is not a possibility.
The president appears to have stuck to that position in Monday's remarks to Bloomberg, saying he was open to talks, but leaving his remarks vague enough to suggest that the circumstances must be right. What those circumstances are, and whether the Trump administration has agreed to what its actual policy is, is unclear, but the various statements on North Korea emanating from Washington are likely to raise questions among U.S. allies in the region who most directly will feel the impact of any North Korean aggression.