'A New Era' in U.S.-Turkish Relations
President Trump and Turkish leader Recep Tayyip Erdogan discussed, among other things, Kurdish rebels and Fethullah Gulen.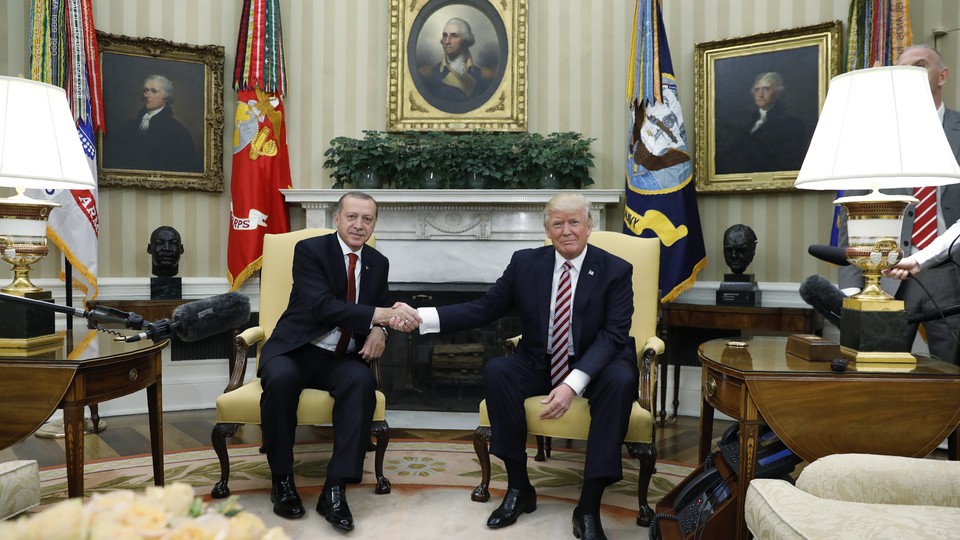 President Trump welcomed Turkish President Recep Tayyip Erdogan to the White House Tuesday for a meeting the Turkish leader said marks "a historical turn of tide" in relations between the NATO allies despite recent tensions over the U.S.'s plan to arm Kurdish rebels in Syria.
Three issues loomed over the talks, their first face-to-face encounter since Trump took office: Kurdish rebels, the extradition of a Turkish cleric whom Ankara regards as a terrorist, and the refugee crisis spawned by the Syrian civil war. Trump said their discussion would also encompass trade and commercial ties.
"Today we face a new enemy and the fight against terrorism and again we seek to face this threat together," Trump said Tuesday during a joint statement, adding the U.S. would support Turkey "in the first fight against terror and terrorist groups like ISIS and the PKK," in reference to the separatist Kurdish Workers Party, a designated terrorist group.
Last week the Trump administration announced its decision to arm the Syrian-Kurdish People's Protection Units (YPG), a Kurdish militia group fighting alongside Syrian Arab forces against the Islamic State. The move prompted outrage from Ankara, which regards the militia as an extension of the PKK. Turkish Prime Minister Binali Yildirim said Erdogan's meeting with Trump would be an opportunity for the U.S. to "correct the mistake."
In his own remarks, Erdogan said groups like the PKK and YPG "will never be accepted," adding that to do so would be "against a global agreement that we have reached."
It's unclear whether Trump will change course; as my colleague David Graham wrote last night, other foreign leaders have managed to get what they want out of the U.S. president after brief meetings or conversations. Still, the YPG is seen a crucial ally in the fight against ISIS, and the Pentagon said last week that the group would be critical in achieving victory in Raqqa, ISIS's de facto capital. Though Trump has previously acknowledged Turkey's concerns with the Kurds, he told The New York Times last July he is "a big fan of the Kurdish forces,"adding that "it would be ideal if we could get them all together."
Another issue Erdogan is expected to press Trump on is Turkey's long-standing extradition request for Fethullah Gulen, the Pennsylvania-based Islamic cleric Ankara accuses of orchestrating a failed coup against Erdogan last July. More than 47,000 people were arrested in the coup's aftermath for suspected ties to Gulen. The cleric, who denied involvement in the putsch, criticized in a Washington Post op-ed Tuesday what he called a "new stage of authoritarianism" under Erdogan's leadership, adding "the people of Turkey need the support of their European allies and the United States to restore their democracy."
Erdogan, in his appearance with Trump, said Turkey had "been very frankly communicating our expectations" regarding Gulen's extradition.
The Syrian civil war, where Turkey is ostensibly on the same side as the U.S., was also said to be on the agenda. Turkey is home to nearly 3 million of 5 million refugees created by the Syrian civil war. Trump's travel ban includes Syrian refugees.
Despite the differences, relations between Trump and Erdogan are certainly better than between the Turkish leader and former President Obama.While last month's passage of a constitutional referendum granting Erdogan sweeping presidential powers was criticized by Western officials who accused the Turkish leader of attempting to consolidate authority, Trump called Erdogan to congratulate him.
It's a move that's not unusual for Trump—since his inauguration, he's reached out to several leaders whose relations with the U.S. had previously been fraught. Last month he welcomed Egyptian President Abdel Fattah al-Sisi to the White House despite criticism of Sisi's human-rights record; he also invited Philippines President Rodrigo Duterte, who human-rights groups say has overseen extrajudicial killings, to the U.S.
The meeting comes against the backdrop of revelations Trump allegedly shared highly sensitive intelligence received from an unnamed ally in a meeting with Sergei Lavrov, the Russian foreign minister, and Sergei Kislyak, the Russian ambassador to the United States. Though National-Security Adviser H.R. McMaster called the story "false"—remarks he reiterated Tuesday—Trump did not explicitly deny the allegations, tweeting that it is his "absolute right" to share intelligence with Russia.
When asked about the news reports Tuesday, Trump called the meeting with the Russians "very, very successful," adding: "We want to get as many to help fight terrorism as possible and that's one of the beautiful things that's happening with Turkey— the relationship we have together will be unbeatable."
Still, the matter could emerge as a salient issue for Turkey and other regional allies the U.S. has relied upon for intelligence-sharing and military assistance in its fight against ISIS.