Trayvon Martin Will Receive a Posthumous College Degree
Florida Memorial University will honor Martin with a bachelor's degree at its upcoming commencement ceremony.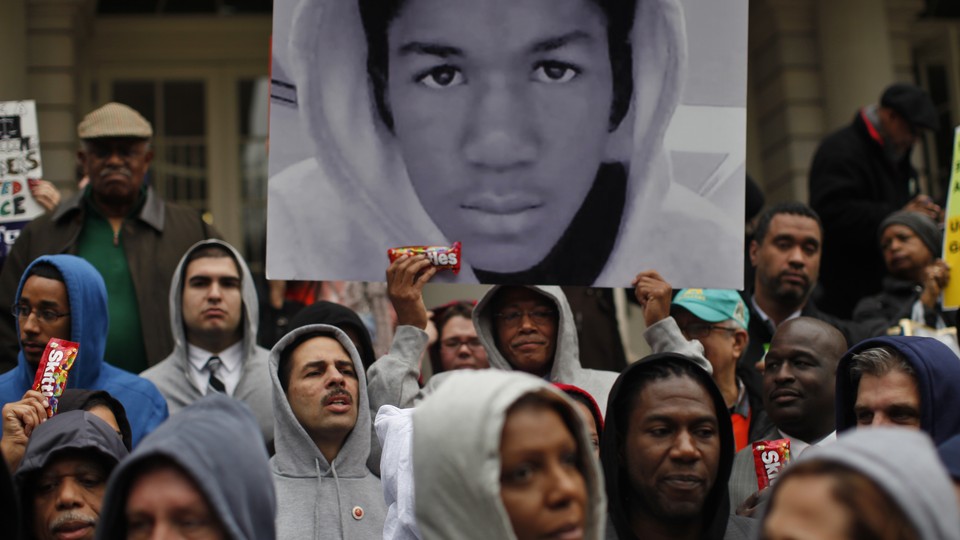 Five years after his death, Trayvon Martin will receive a posthumous bachelor's degree in aeronautical science from Florida Memorial University (FMU), the university announced Wednesday on its Facebook page. If Martin were alive today, he would be 22 years old—the same age as many college graduates.
Martin's degree will specify a concentration in flight education, the university said, "in honor of the steps he took during his young life toward becoming a pilot." FMU, a historically black college, maintains a designated pilot training center. Martin attended a few aviation classes in high school and "had an obvious love of flying," an FMU spokeswoman told CNN.
Martin's name catapulted to national recognition in 2012 when he was shot and killed by George Zimmerman, a neighborhood watch volunteer, in Sanford, Florida. After spotting the then-17-year-old returning from a convenience store, Zimmerman called the Sanford Police Department to report Martin's "suspicious" behavior. An altercation followed, and resulted in Martin being fatally shot in the chest. Zimmerman was charged with second-degree murder, but ultimately acquitted in July 2013.
The case sparked national conversation over racial profiling and police brutality, serving as the genesis of the Black Lives Matter movement. A month after the shooting, former president Barack Obama famously declared, "If I had a son, he would look like Trayvon."
On Saturday, May 13, Martin's parents will accept a degree on their son's behalf at FMU's commencement ceremony. Martin's mother, Sabrina Fulton, is a graduate of the university with a bachelor's degree in English. On its Facebook page, FMU praised Fulton's advocacy and social justice work in the wake of her son's death. Fulton thanked the university for honoring her son via Twitter.
FMU already serves as the headquarters for The Trayvon Martin Foundation, co-founded by Martin's parents. On its website, the foundation describes itself as "a social justice organization committed to ending senseless gun violence, strengthening families through holistic support, S.T.E.A.M. education for women and minorities, and mentoring." Following the university's commencement, FMU will hold a reception and fundraiser in support of the foundation.