The Violent Clashes Between Erdogan's Guards and Protesters
A dozen people were injured in a protest that coincided with the Turkish leader's visit to the White House.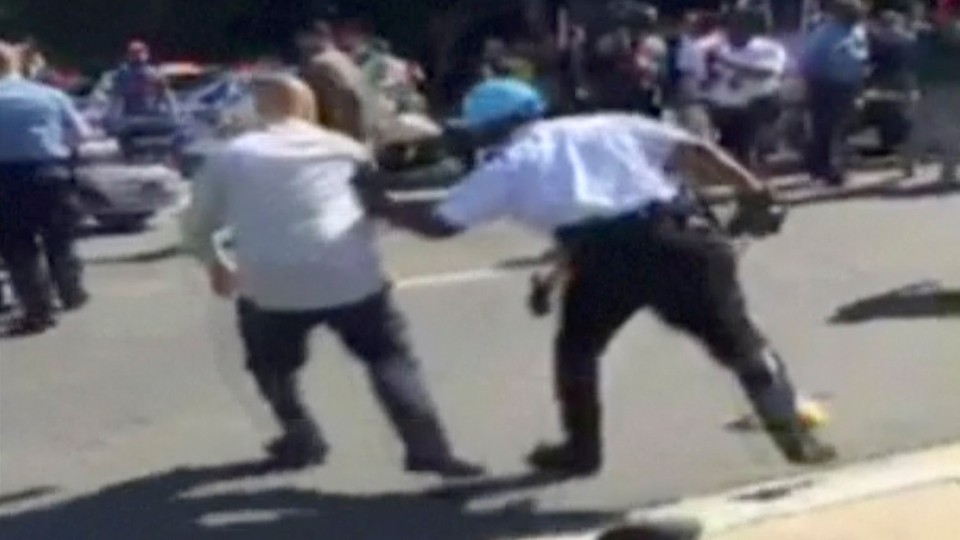 Authorities announced Wednesday charges against two protesters in connection to the outbreak of violent clashes outside the Turkish ambassador's residence in Washington, D.C., that involved President Recep Tayyip Erdogan's guards.
D.C. Police Chief Peter Newsham said in a press conference Wednesday that 12 people, including a police officer, were injured Tuesday in what he called "a brutal attack on peaceful protesters." Two people, both Americans, were arrested on the scene, and Newsham said that authorities would pursue charges against others involved.
"We intend to ensure that there is accountability for anyone that was involved in this assault," Newsham said, adding that this is "not something we tolerate in our city."
The anti-Erdogan protest, which coincided with the Turkish leader's visit Tuesday with President Trump at the White House, was composed of approximately two dozen protesters, including members of the Armenian National Committee of America and supporters of the Peoples's Democratic Party, a pro-Kurdish political party in Turkey. Video of the incident shows protesters being attacked by unidentified men in suits, while D.C. police officers attempted to restore calm. One protester can be seen being repeatedly kicked on the ground by multiple people before police intervene.
Here's what the incident looked like (this video contains violent images):
Muriel Bowser, the DC mayor, condemned the incident as "an affront to DC values and our rights as Americans." The incident was also condemned by State Department Spokeswoman Heather Nauert, who said "violence is never an appropriate response to free speech, and we support the rights of people everywhere to free expression and peaceful protest."
Andalou, Ankara's state-run news agency, described the incident differently, framing the protesters as "supporters of terror" and blaming the violence on an "inadequate" response by local authorities.
The incident even prompted a response from Samantha Powers, the former U.S. ambassador to the United Nations, who said in a tweet late Tuesday that "Clearly Erdogan's guards feel complete impunity, drawing on tools of repression they use at home & knowing he has their back, no matter what."
Indeed, such assaults on anti-Erdogan protests overseas is not new. Members of Erdogan's security detail were photographed in March 2016 manhandling reporters and protesters outside an event in which the Turkish president was speaking—an altercation which drew comparisons to Erdogan's crackdown on the press at home. As my colleague Krishnadev Calamur reported at the time, since Erdogan's election in 2014, "newsrooms deemed critical by the president have been attacked, journalists arrested and charged with espionage, an opposition newspaper has been seized, and foreign reporters deported and harassed for their coverage."
Though authorities may seek to make more arrests as the investigation into the incident continues, it's unlikely that any of Erdogan's guards found to be involved in the altercation will face charges. As members of the Turkish president's security detail, they could be subject to diplomatic immunity, a special status that shields them from prosecution.