The Unidentified Object Fired From North to South Korea
The incident comes days after Pyongyang successfully launched a medium-range ballistic missile.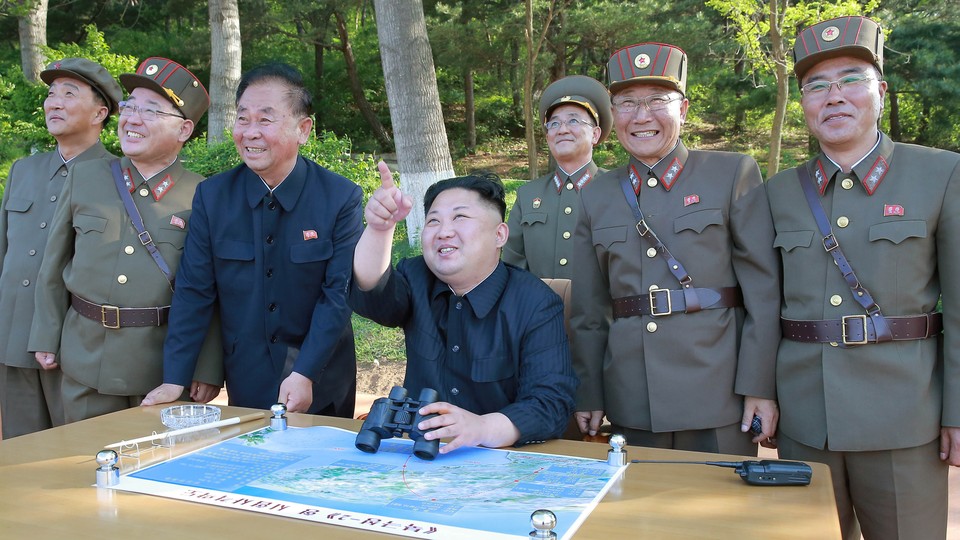 South Korea's military said it fired warning shots Tuesday at an "unidentified object" that flew across the demilitarized zone separating it from North Korea, marking the latest provocation from the North in recent weeks.
As South Korea's Yonhap news agency reports, an object was detected at 4 p.m. local time crossing the Military Demarcation Line, a 154-mile armistice line that was established by both countries in 1953 at the end of the Korean War, into South Korean airspace. The South Korean military fired more than 90 K-3 machine gun rounds at the object, which was detected over the country's northeast Gangwon province, just 45 miles away from Seoul, its capital.
This is not the first time South Korea has reacted to an object flying across its border with Pyongyang. In January, South Korea's military opened fire at a North Korean drone that flew over the western section of the DMZ. It was not clear whether the drone, which reportedly flew back towards the North after the warning shots were fired, was armed.
The move comes two days after Pyongyang conducted a successful test launch of a medium-range ballistic missile, after which North Korean leader Kim Jong Un called for the missile's "rapid" mass production. As my colleague Aria Bendix noted earlier this week, Sunday's launch was not the North's most successful to date. On May 14, the country launched a ballistic missile that flew 430 miles and reached an altitude of more than 1,245 miles—farther and higher than its last successful test in February. Most of the tests conducted by North Korea since March have failed.
The UN Security Council, which is set to meet Tuesday to discuss Pyongyang's latest missile test, condemned the launch as a "flagrant and provocative defiance of the Security Council." Both President Trump and South Korea's newly elected President Moon Jae In have expressed their willingness to negotiate with Pyongyang—a willingness the North suggested it may share "under the right conditions."