Bribery Allegations Against Brazil's President
Michel Temer has denied charges he approved soliciting payments to silence a former associate.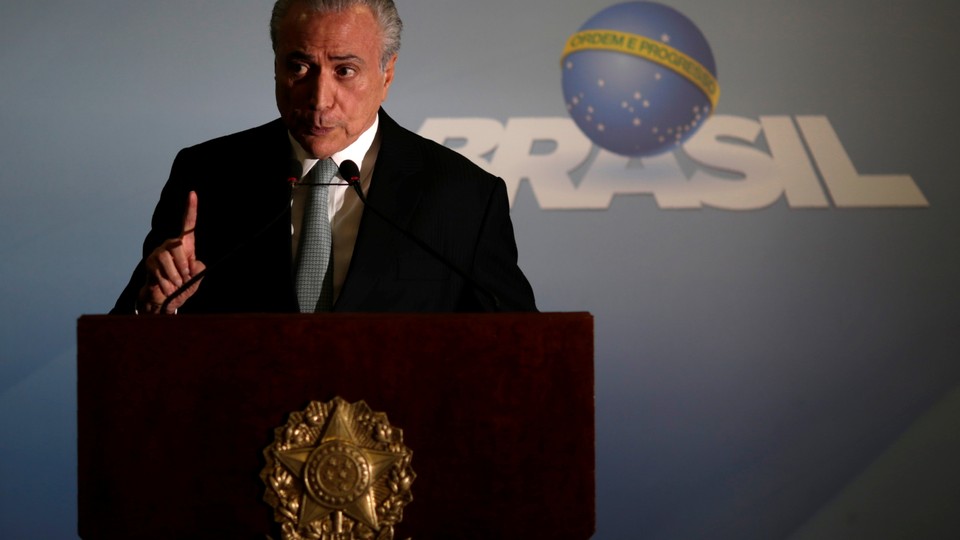 Updated at 3:26 p.m. ET
Brazilian President Michel Temer announced he "will not quit" in response to calls for his impeachment following news reports he was recorded approving bribes to silence a possible witness in the country's ongoing corruption scandal—allegations the leader denies.
"I know what I've done and I know the correctness of my actions," Temer said Thursday in a press conference, adding he will "demand a full and rapid investigation" into the matter.
Temer's remarks come one day after news reports revealed Temer was recorded in March having a conversation with Joesley Batista, the chairman of JBS, Brazil's largest meatpacker. During the conversation, Batista allegedly told Temer that JBS was paying former House Speaker Eduardo Cunha, a once powerful member of Temer's ruling party who was expelled from the government in September, for his silence—to which Temer was recorded saying, "You need to keep that up, OK?"
The reports did not say what Cunha was paid to keep silent about, though the former speaker, who has been called the "Frank Underwood" of Brazilian politics, has previously claimed to have compromising information about several politicians linked to the massive corruption scandal involving Petrobras, the state oil firm.
The recording, which Brazilian newspaper O Globo said it has obtained but has not been made public, was presented by Batista and his brother, Wesley Batista, to prosecutors as part of a plea deal, according to the newspaper.
Though the president's office confirmed the meeting between Temer and a JBS executive took place in March, it denied Temer asked for payments to silence Cunha, adding: "There was nothing in the dialogue that would compromise the president's conduct."
Still, the reports have prompted calls for Temer's resignation. Here's what the protests looked like late Wednesday in São Paulo:
Temer is far from the only politician to be tied to the corruption scandal, dubbed "Operation Car Wash," which has implicated nearly all of Brazil's political class, including every senior member of the ruling party. Still, the new allegations could hurt the leader, whose approval rating has slumped to 9 percent. If Temer were to be impeached as his predecessor, former President Dilma Rousseff, was last August, he would likely be succeeded by Rodrigo Maia, the leader of Brazil's lower house of Congress who is also implicated in the scandal.