The Arrest of a Journalist Asking About Health Care
West Virginia reporter Dan Heyman was detained for getting too close to Health and Human Services Secretary Tom Price.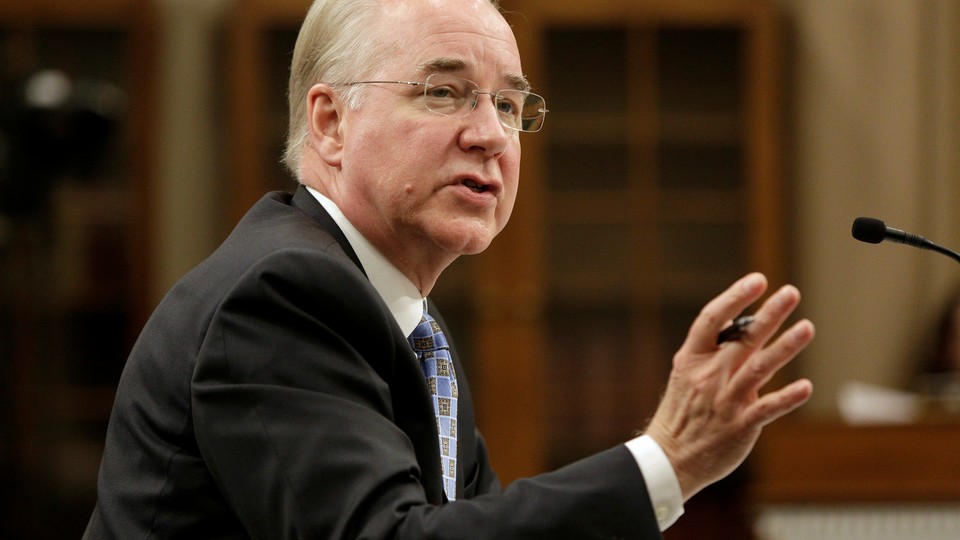 A West Virginia reporter was arrested Tuesday after asking Health and Human Services Secretary Tom Price a question about the Republican health-care bill.
Public News Service reporter David Heyman said he was covering Price's visit to the state capitol with Kellyanne Conway, an adviser to President Trump, when he attempted to ask the Cabinet member about whether domestic violence would be considered a preexisting condition under the American Health Care Act, the Republican replacement for the Affordable Care Act that passed the House last week. Price and Conway were visiting Charleston to hear about efforts to fight opioid addiction in the state.
"I was recording audio on my phone and I reached it out to [Price], past his staffers and the other people who were with him, and I asked him the question repeatedly and he did not answer," Heyman said Tuesday at a press conference after his arrest, adding, "At some point I think they decided I was too persistent in asking this question and trying to do my job, so they arrested me .… I was just doing my job."
The criminal complaint alleges Heyman "tried aggressively to breach the security of the Secret Service" and caused "a disturbance by yelling questions." Tim DiPiero, Heyman's lawyer, called the charges against his client "highly unusual," adding that the veteran journalist "had no intention of doing anything but asking a tough question."
Heyman was charged with willful disruption of a state-government process and was later released on $5,000 bond. You can see video of his arrest here:
The American Civil Liberties Union denounced Heyman's arrest "a blatant attempt to chill an independent, free press" and called on the charges against him to be dropped.