A Texas Bill That Allows Adoption Agencies to Discriminate
Supporters say it backs religious freedom, and critics say it allows agencies to turn away parents based on religion or sexual orientation.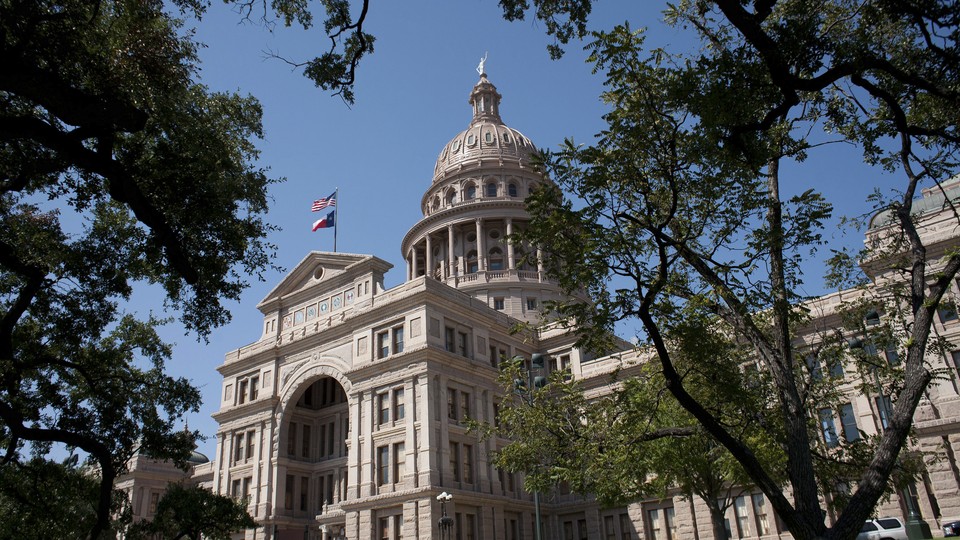 The Texas House of Representatives passed a bill on Wednesday that would allow adoption and foster care agencies, whether public or private, to refuse to place children in certain homes, depending on the agency's religious affiliation. Supporters say it provides important legal cover from lawsuits, but critics say it allows religious institutions to discriminate against households of different religions, or LGBT parents.
Texas House Bill 3859, titled the "Freedom to Serve Children Act," was passed with a 93-49 vote, and it now heads to the state Senate for further debate. The bill was pitched by its author, Texas Representative James Frank, as defending the religious freedoms of adoption agencies. About one-quarter of all Texas adoption facilities affiliate with a religion, and Frank said the bill defends these from lawsuits if the agencies deny potential parents based on "sincerely held religious beliefs."
Similar laws have been passed in five other states, most recently in Alabama. Texas's would impact the most children, and is the most sweeping, because it includes state-funded agencies, whereas most other such laws do not. The adoption laws are ideologically aligned with those like Indiana's 2015 "Religious Freedom Restoration Act," signed into law by current Vice President Mike Pence when he was the state's governor, which allowed a pizza restaurant to deny catering services to gay weddings.
Adoption agencies in Texas are overburdened, underfunded, and plagued with abuse problems. Frank said his bill would ease these issues if passed. But it's not clear how this would happen, critics say, and they doubted a law that provides legal cover for agencies to deny adoptions would lead to more placements. "Say you call an agency and say, 'I'm Jewish,' and it's a Catholic agency and they hang up on you," Suzanne Bryant, an adoption rights attorney, told the Associated Press,  "The bill says you can be referred to another agency, but there's no mechanism to set that up."
Most adoptions in the state go through Child Protective Services, a government agency not subject to the law. And in Texas, private and publicly funded adoption and foster care agencies are already allowed to choose who they place a child with, factoring in things like whether or not the parents attend church weekly, if they're LGBT, and how long they've been married. So Frank argued his bill only adds legal protection to rules already on the books.