An Acquittal in the Fatal Shooting of Terence Crutcher
Tulsa police officer Betty Jo Shelby was found not guilty in the death of the unarmed black man.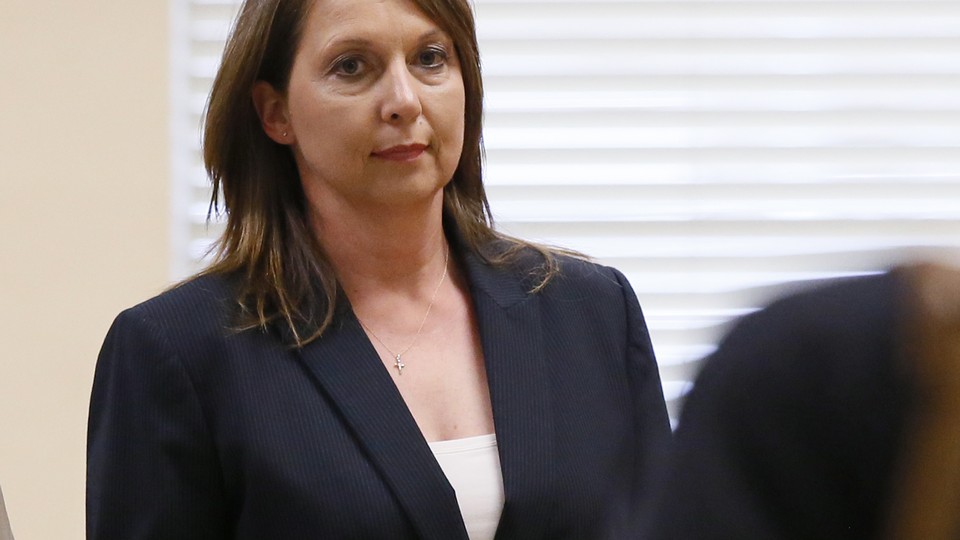 Tulsa police officer Betty Shelby was found not guilty Wednesday for the fatal shooting of unarmed black motorist Terence Crutcher, whose death was captured on video.
The verdict, which Tulsa World reported came after nine hours of deliberation, was met with tears by members of the jury and outrage from Crutcher's family.
"Let it be known that I believe in my heart that Betty Shelby got away with murder," Crutcher's father, Joseph, told reporters after the verdict. "I don't know what was in the mind of that jury." Crutcher's sister, Tiffany, accused the police for trying to "cover-up" her brother's murder to protect Shelby and criticized them for not immediately providing care after he was shot.
District Judge Doug Drummond asked the courtroom ahead of the verdict "to trust the system," adding "this was a very difficult case with lots of difficult issues."
Shelby, a five-year veteran of the Tulsa Police Department, faced a first-degree manslaughter charge for Crutcher's death—an event that began as a routine traffic issue but quickly escalated after Shelby, flanked by three other officers, shot Crutcher, who was standing next to his stalled SUV with his arms raised over his head. Shelby said in a statement that she feared for her life and believed Crutcher to be reaching for a gun during the incident. She also claimed he appeared to be on drugs. A toxicology report revealed Crutcher was on two hallucinogenic drugs, including PCP, during the encounter, but authorities found no weapons on him.
The verdict prompted a demonstration Wednesday night outside the courthouse, during which protesters chanted "hands up, don't shoot" and "no justice, no peace." Mary Fallin, the Oklahoma governor, issued a statement appealing to the state's residents to "respect our criminal justice system," adding "those who disagree with the verdict have the right to express their opinions; I just ask that they do so in a peaceful manner."
The U.S. Justice Department launched its own investigation into possible civil-rights charges related to Crutcher's death, but the status of the inquiry is unclear.