Officer in Tamir Rice Shooting Is Fired
Cleveland police terminated Timothy Loehmann because he misrepresented himself on his job application.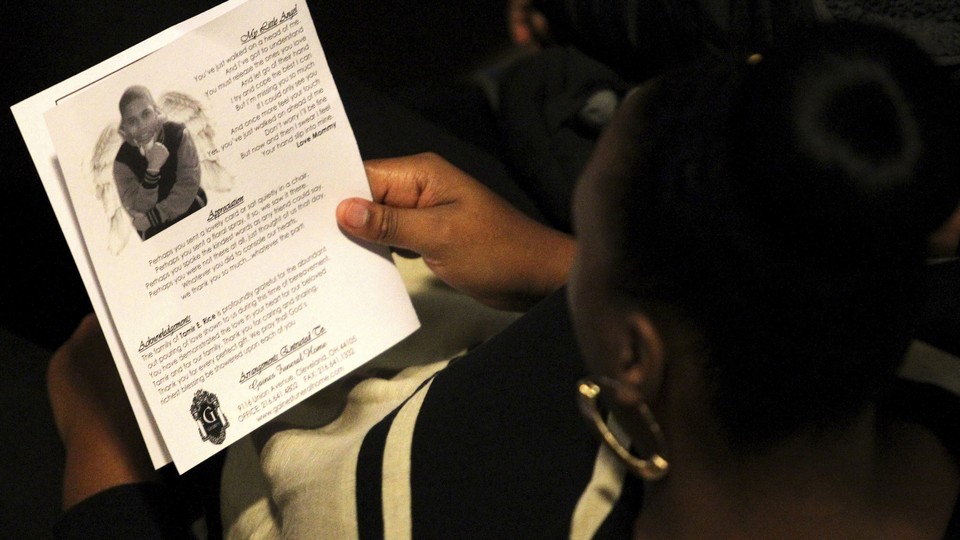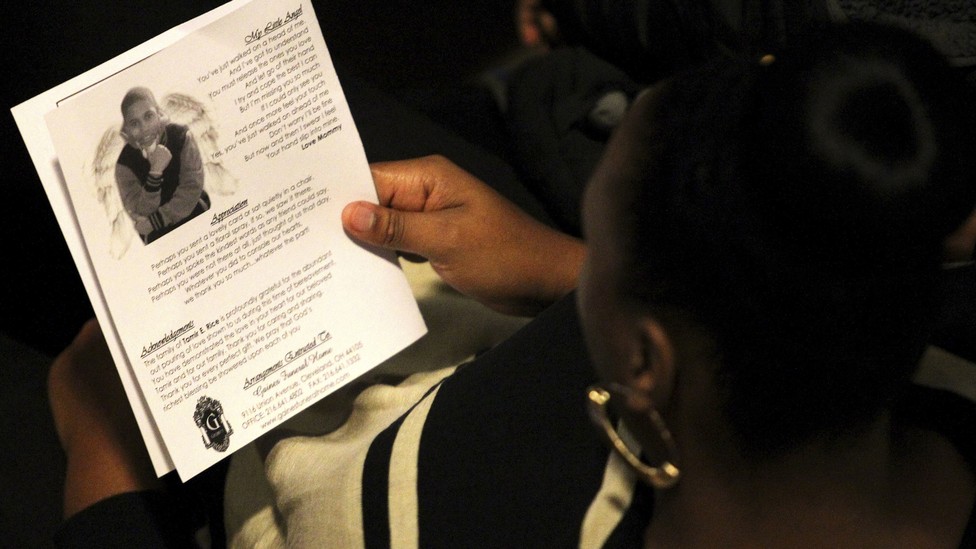 The Cleveland Division of Police announced Tuesday it had fired Officer Timothy Loehmann, who shot and killed 12-year-old Tamir Rice in 2014. Frank Garmback, the officer who was driving the patrol car at the time of the shooting, will be suspended for 10 days starting Wednesday.
The penalties were announced by Michael McGrath, director of Public Safety, at a Tuesday news conference. The decisions followed a review of the shooting by the department's critical-incident review committee, which was established in February 2016, Chief Calvin Williams said.
Loehmann was fired not for shooting Rice, but for misrepresenting himself on his job application with the Cleveland Division of Police where he had been an officer for eight months—within the probationary period—at the time of the shooting in November 2014. Garmback's suspension was for the violation of a tactical rule related to how he approached the area where Rice was shot. Williams said both officers were notified of their fates Tuesday.
"I think we've learned a lot from this incident and other incidents that have happened since 2014," Williams said.
He pointed to the reduction in the use of deadly force by police following Rice's death, with officers emphasizing de-escalation tactics; the increased use of body cameras by police; and officers being trained on the use of first aid.
"I think our officers have learned that there are best approaches to incidents and with the training that they are receiving, to bolster the training they've had in the past, hopefully we won't have any more incidents like this," Williams said.
The decision comes more than a year after the city of Cleveland said it would pay Rice's family $6 million to settle a civil lawsuit. As my colleague David Graham wrote at the time, the size of the settlement, which came months after a Cleveland grand jury declined to indict Loehmann, was unusually large. Here's more:
The size of the settlement may reflect in part the circumstances of Rice's death. Video of an unarmed black boy being gunned down by police just seconds after they arrived on the scene sparked national horror. (Rice had been holding an Airsoft gun.) As more information about Rice's killing emerged, it added fuel to the outrage. The officers on the scene, Loehmann and Frank Garmback, hadn't delivered first aid, a role left to an FBI officer who happened to be nearby. Rice's sister was kept from running to her wounded brother. Damaging revelations about Loehmann's prior police career added to the fury. He had resigned from another Northeast Ohio department after a bad performance review, and had been rejected by other area departments, information the Cleveland department apparently did not turn up.
Rice was shot and killed after Loehmann and Garmback responded to a call on November 23, 2014, about a man waving a gun near a city park. Loehmann shot and killed Rice, who was holding a pellet gun, within moments of the police cruiser skidding to a halt near Rice, who was holding a pellet gun. The shooting, which was captured on video, sparked outrage, as it came soon after the deaths of Michael Brown in Ferguson, Missouri, and Eric Garner in New York at the hands of police officers. In December 2015, Tim McGinty, the Cuyahoga County prosecutor, announced that a grand jury wouldn't charge the two officers, calling Rice's death a "perfect storm of human error."