Taiwan's Same-Sex Marriage Victory
The constitutional court's ruling could make the island the first place in Asia to legalize gay marriage.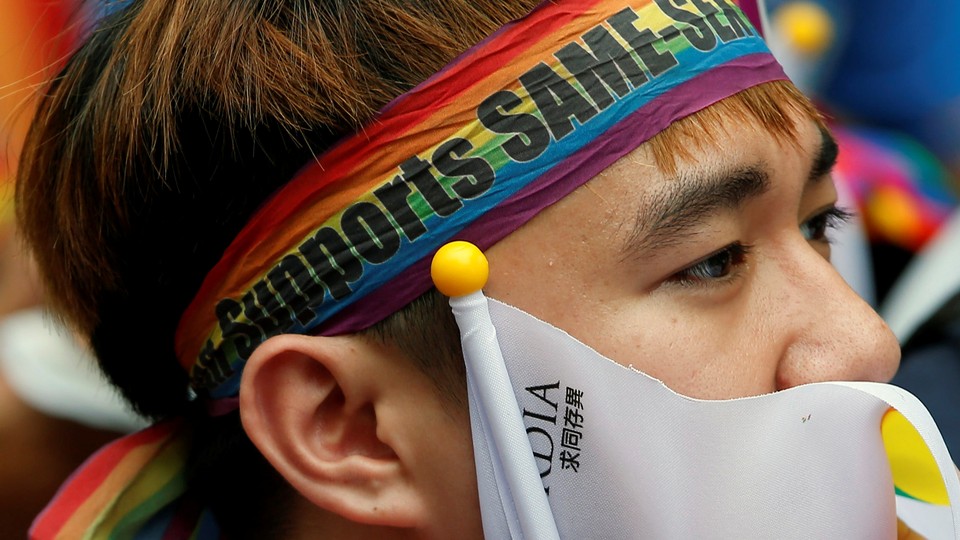 Taiwan's constitutional court struck down Wednesday the island's definition of marriage as being only between a man and a woman, in a landmark ruling that could make it the first place in Asia to legalize same-sex marriage.
The court's ruling gives Taiwan two years to either amend its Civil Code, which in its present form the court says violates people's constitutional rights to human dignity and equality under the law, or enact new legislation to address same-sex couples. If the country pursues neither option, the court said in a statement, same-sex couples will "be allowed to have their marriage registration effectuated at the authorities in charge of household registration."
The months leading up to the decision prompted tens of thousands of people to protest in support of and opposition to draft legislation that would legalize same-sex marriage (though the bill passed its initial reading in Taiwan's parliament late last year, it has since been stalled). This is how a crowd of people reacted when the ruling was announced:
The decision paves the way for the island to become the first place in Asia to legalize same-sex marriage—a move both the ruling and opposition parties support, as does Taiwan's president, Tsai Ing-wen, who once said "every person should be able to look for love freely, and freely seek their own happiness."
A majority of Taiwan's public seem to agree. A 2015 online poll conducted in coordination with Taiwan's Ministry of Justice found that 71 percent of those polled favored the legalization of same-sex marriage.